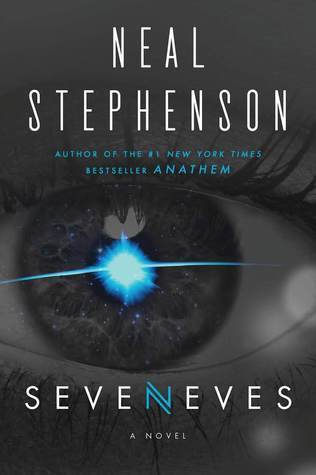 One the one hand, I think it's commendable that Neal Stephenson didn't break Seveneves into three (or more) novels, which he easily could have done, and stretched their publications out over a decade or so. On the other hand — doing so may have lead to more enjoyment (at least for me) of the series, as the first two sections kept me enthralled, while the third tended to drag. By the end, I felt like I'd spent so much time in "section three" that I'd practically forgotten the joy of the first two.
"So now, when the people of Earth looked up into the night sky at the place where they ought to have seen the moon, they saw instead this slowly tumbling constellation of white boulders."
So. Part One. Some mysterious "Agent" (you'll never find out what it is, so don't worry about it) hits the moon, breaking it into seven sections. At first, this doesn't create much of an issue — until the pieces begin knocking into each other and creating more pieces. Eventually, scientists realize that these pieces will get smaller and smaller, and begin to hit the Earth's atmosphere — an event they refer to as the Hard Rain. After this event, which will kill everyone and everything on the planet, Earth will be uninhabitable for thousands of years. So they begin trying to figure out how to escape. Part two jumps to a few years past the Hard Rain, and we learn what's happened to the people who escaped to space (hint: mostly bad stuff). Part three jumps 5,000 years into the future, where we catch up with what is now the human race, and see what's happened on Earth and in the sky.
The first two parts were great. Lots of science, lots of nerdy people, lots of stuff for Stephenson fans to enjoy. So. Many. Robots. The politics of having a few hundred people in a space station will astound you, and he creates a great bad guy (whose identity I won't spoil). My issue was with the third section. I loved the historical aspects of it — revisiting what we missed: how people survived, how they began to return to the Earth, what's happened to the human race(s). But the plot seemed secondary to all that — I never really cared about the characters like I did in the first two parts. Is it because they're not really human? I'm not sure. I think it's more because we get yanked away from a whole group that we spent a ton of time with (I listened to this as an audiobook, and it amounted to like 21 hours) and dropped into a whole new world with characters that don't get as fleshed out (only about 10 hours of listening time — not sure how this breaks down in pages). I wish Stephenson had written a whole new book to cover that last part, so we could have gotten the whole history PLUS more fully formed characters.
But overall, it's still a great read. Very impressive, very ambitious — like anything I've read by Stephenson. I think I'm going to tackle Anathema next…