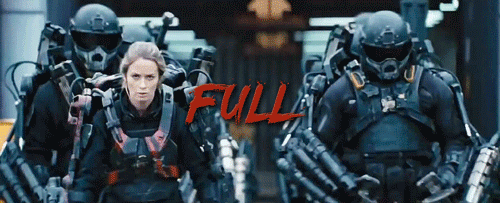 There is a danger to reading the book after watching the movie. Reading the book might cool your love for the movie, especially if the hero is white washed and played by an actor you don't like. I had been meaning to read All You Need is Kill for a couple of years. I mostly loved the hideously named movie version, Edge of Tomorrow, but fully expected to like the book better. One major advantage of the book, besides being a book, would be the lack of Tom Cruise. A major disadvantage, the lack of Emily Blunt. I love the book even more than I expected, and it has made the things I didn't like about the movie (Tom Cruise) more painful. The book has the depth and richness a movie is rarely able to convey. It was very different, with a different protagonist, a different story, and was smaller and more personal, but with a vaster world. I used my imagination to picture Blunt as the Rita in the book. It wasn't hard, because the movie didn't have to whitewash Rita and the script writers didn't change most of what was good about her.
The hero of All You Need is Kill, Keiji Kiriya, is more interesting than Cruise's white-washed and slick William Cage. Keiji is fresh out of high school, unformed, and uncertain. He is a green recruit in his first battle when he is killed by a mimic and caught in a loop – he dies and wakes up the day before the battle only to die and wake again.
Keiji is never interested in being a hero. His first instinct is to run away, and then to commit suicide. When neither of those work, he works on learning from each death and hopes to reach a day when he wakes up with a tomorrow he has not yet lived.
For the first half of the book, he is essentially alone. No interaction he has with other people is carried forward. He cannot build relationships, only his own knowledge and skill set. He does eventually connect with Rita, but he remains essentially alone, because with each re-set, he must re-introduce himself to Rita. What happens when you relive the same day over and over? Keiji learns that certain actions, attitudes, and being even a split second off in timing can change the behavior of other people and even some outcomes. As he is killed and starts the days again, he struggles with living the days instead of going through a rote performance. Though no one else is re-living the days, people do begin to react differently to him as the experience he gains changes him. In battle, he and Rita must work as a team, but because she cannot carry the lessons of the day forward, he learns her and adapts to her. Rita becomes the center of Keiji's world.
When I watched the movie, I fell in love with Rita Vrataski, the Full Metal Bitch. She is an amazing character, in the book and in the movie. In the movie, of course, she is the real action hero and she gets to shoot Tom Cruise a lot.
It's the greatest thing not to be a damsel in distress in an action movie and I will forever be so grateful for the title of 'Full Metal Bitch. – Emily Blunt
In the book, Rita is still the action hero. She has been through the loop before and has lived with the isolation of watching her friends die over and over again and accepted that she cannot save them. Like Keiji, she didn't want to be a hero, but unlike him, she embraces it because it is necessary. Though Rita experiences Keiji's looped days fresh every time, having been through even more loops, she understands Keiji and trusts him to learn and adapt. The Rita of the book has a different story than the Rita of the movie, but at the core they are not too different. In All You Need is Kill, Rita is much younger, and both tougher and more vulnerable. I had intended to read the manga version next, but after looking at some of the images of Rita, I've decided to quit while I'm ahead.
Rita and Keiji have an opportunity that no human has had, the chance to learn from their deaths. It doesn't make them better people, but it does make them better killers. Early in the book, Keiji seeks additional training from his sergeant. Sergeant Ferrell has survived many battles with out the benefit of a time loop. He introduces the idea that drives the book.
You ever hear the expression kiri oboeru?"

"What?" I asked, startled to hear Japanese.

"It's an old samurai saying that means "Strike down your enemy, and learn.'"
Rita and Keiji become warriors by virtue of repeated experience. At one point, Keiji thinks of them as natural born killers, but they are not. Through an unnatural and alien experience, they are able to learn how their enemy fights and so become the perfect weapons against them.
One of the things I hated about Edge of Tomorrow was the happy ending. After reading All You Need is Kill, I hate it even more, and my dislike of Tom Cruise has been ratcheted up a few notches. I have no inherent objection to happy endings, but that one felt dishonest. It felt like service to Tom Cruise, the persona, and not the story. I sobbed at the end of All You Need is Kill. The war is not over, and there is no guarantee that it will end well for Earth. There is something emotionally satisfying about a story that ends, not happily, but honestly.