Ya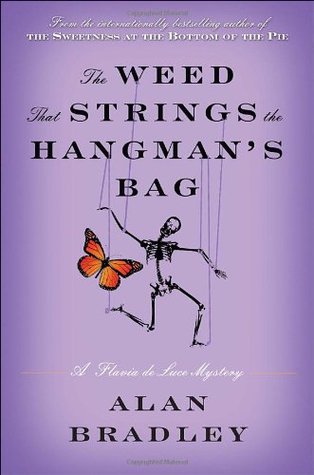 y, I hit my cannonball!
"I am often thought of as being remarkably bright, and yet my brains, more often than not, are busily devising new and interesting ways of bringing my enemies to sudden, gagging, writhing, agonizing death."
So this was the second Flavia de Luce mystery. This one had some pretty depressing elements, as it revolves primarily around a dead child and a beaten woman. But Flavia brings her humor to it, and the twisty mystery part was pretty good.
When a van breaks down in Bishop's Lacy, Flavia is right there to help — well, to be nosy anyway. The van contains a well known puppeteer (Rupert) and his assistant/main actress (Nialla). Things seem fishy from the start, as Nialla acts strangely around Rupert and possesses an awful bruise. Flavia starts poking around, and ends up solving both a new mystery, and an old one that has haunted her town for years.
What cracks me up about these books is the juxtaposition between what Flavia does and doesn't know. For instance, she rambles on at length about various poisons, chemicals, ways of death, etc. But she has to ask Dogger what an "affair" is, and when he answers with something like, "Oh, that's when people become really good friends", she then thinks, "that's exactly what I thought!". She's too smart for her own good, in a lot of ways. But she makes for an interesting character!