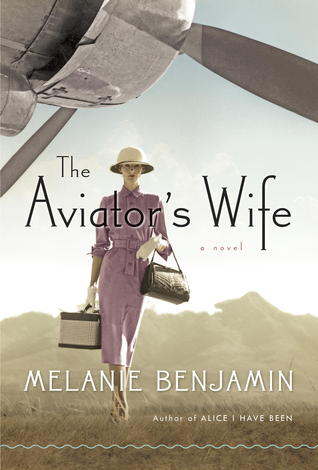 And following the feel-good goodness of Willowdean and Dumplin', I read The Aviator's Wife, and spent the whole book wanting to strangle the main character. Read on!
"Marriage breeds its own special brand of loneliness, and it's far more cruel. You miss more, because you've known more."
The Aviator's Wife is Melanie Benjamin's fictionalization of the life of Anne Morrow Lindbergh, the wife of aviator Charles Lindbergh and the mother of the poor Lindbergh baby, who was kidnapped and murdered at 20 months old. I'm not sure how many liberties Benjamin took with these people's lives, but she paints Charles as a complete asshole, and Anne as his poor, betrodden wife — forced to act as his crew. They both made me crazy.
Anne marries Charles after knowing him for only days. She states repeatedly that her dream has always been to marry a hero (too many Disney movies?). A combination of that wish, and the sheer delight that Charles notices Anne over her more beautiful sister, seems to made up her mind about this marriage. He teaches her to be his co-pilot, and everything's going great (as long as she follows all of his rules) until she gets pregnant. After having baby Charlie, Anne wants to stay home and be with him, but Charles insists on having her by his side. Later, after Charlie's death, Anne does stay home — with six children, eventually, while Charles flies around the world, befriends some Nazis and has affairs.
No one in this book is particularly likable, although it's impossible not to feel sorry for Anne — between the kidnapping and her husband's affairs, she's pretty pitiable. The writing is very good, and Benjamin does a great job of describing the characters and the times. I just didn't care for them.