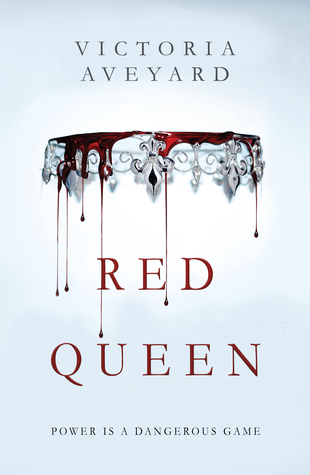 I borrowed this one from the library because I've seen it on tons of "best of" lists lately (I think Goodreads was the final push for me). While I can see how this could develop into a successful series a la Hunger Games (and isn't that every YA author's dream right now?), it didn't quite live up to my expectations.
"In the fairy tales, the poor girl smiles when she becomes a princess. Right now, I don't know if I'll ever smile again."
Mare Barrow is a Red in a world ruled by Silvers. Named for the color of their blood, Silvers each have a unique talent/superpower — some can control fire, or water, while others can become invisible, etc. Reds don't have powers, so they're forced to serve the Silvers while living in poverty, and sending their children off to fight an unwinnable war. Then one day, Mare ends up surrounded by Silvers and accidentally unleashes a power that she didn't know she had. Desperate to cover up the fact that a Red has Silver powers, the royal Silvers turn Mare into one of their own — which becomes very dangerous for her and her family.
The superpowers are neat — although all of the house names with their identifying colors and powers kept reminding me of Game of Thrones. And a lot of the elements reminded me of Hunger Games — the rich capital vs. the poor outlying areas, the classification of each Red area by its main export, the children sent off to war (rather than the arena), the supposedly radioactive city that the Reds have secretly taken over, and so on. But the main difference between The Red Queen and the far superior, in my opinion, Hunger Games, lies in the characters. Aveyard's characters, particularly our heroine, seem poorly fleshed out, assigned motivations with no real background. The reasoning behind some of that gets revealed later in the book, and I'm sure more detail will come in its sequel(s), but this first entry seemed rather wanting.