Love and Other Wild Things is the second book in the Mystic Bayou series by Molly Harper. Said bayou deep in Louisana attracts magical beings. The town is near a mysterious rift that's catnip to shifters, witches, and any other magic being that you name. Decades ago humans and magi settled in Mystic Bayou. They mostly live in harmony. Through the series, we meet scientists who have come to observe and research the unique place.
In the first book, How to Date Your Dragon, an anthropologist named Jillian arrived to study the town relationships. This time around, Danica Teel has been specifically brought in by Jillian to help resolve issues with the rift. Dani has a magical gift to sense energy. Thus, she's the exact person to study why the rift has been transforming some of the human residents. To raise the stakes, she is also not the only witch on the case. Dani really needs this job, so the idea of competition makes her want to focus on the job. She gets down to business right away but can't deny the chemistry with the town mayor, Zed. He's a bear shifter and can be quite the charmer. She spends time with him as he introduces her to the quirky town residents. Dani also befriends Jillian, which was a nice layer in the book. The story isn't quite the Hallmark template of small-town antics and romance. There's something strange, well stranger than usual, going on in town. Dani feels like there's a dark presence stalking her. When things start getting dangerous, she teams up with Zed to solve the mystery.
The second novel is equally as fun as the first. Reading these novels is like watching an episode of Charmed. You get the soap opera, the romance, and the magical stakes. Harper is great at injecting fantasy humor into the story while not skimping on the heat.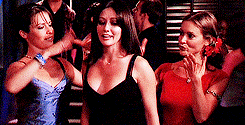 I didn't start with book one, but book three since the title, Even Nymphs Get the Blues, caught my eye. I do think one would benefit slightly from starting with book one. Mainly to know the previous town drama for context. If you're looking for a steamy paranormal romance with wacky, but loveable characters, check out the Mystic Bayous series. I highly recommend listening to the Audible Original versions. The narrators nail the rom-com elements.
Read more of my reviews on my blog.