Here's a HUGE thank you to LurkeyTurkey whose Holiday Gift Exchange package was sitting on my porch when I got home yesterday morning. After getting sick with what turned out to be my SECOND bad cold since the beginning of November, I'd had to drive over to my doctor's office to make an appointment for later in the morning because their phone lines were so tied up that no calls would ring through.  And sitting on my porch was a package addressed to "The Incredible Bonnie W." That was such a great pick-me-up to come home to, after feeling so lousy for so long.
I wish I'd taken a photo of the beautiful wrapping inside, but I was so excited for my gift, that I ripped it right open!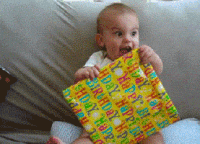 And inside was a lovely, thoughtful card from LurkeyTurkey, and two awesome looking books: the graphic novel, Grass, by Keum Suk Gendry-Kim and The Time In Between by María Dueñas. I've read neither, so I can't wait to check these out.
Thank you so much for the great gift and wonderful timing, LurkeyTurkey. May you (and all of you) have a wonderful holiday season, filled with books!