Romance has been a great salve for the general pandemic malaise. I've been loving own voices books featuring Black protagonists finding love, even when it was absolutely the last thing on their minds. These three novels all written by Black women were refreshing and reminded me why I love this genre. I absolutely love reading about an independent woman who falls in love with a sexy man who has his act together.
I picked up Destiny's Captive by Beverly Jenkins from the library. I had no idea it was the third in a series about three California brothers. Thankfully, the book works perfectly as a standalone. The youngest brother, Noah Yates, has his boat kidnapped by a mysterious woman. Said woman is Pilar who is a descendant of pirates fighting against the Spanish taking over Cuba. She needs his ship desperately for a weapons delivery. Noah is just getting his life back on track after being indoctrinated into the sailor's life against his will. All he wants is to find his ship and get revenge on this thief. He didn't expect the thief to be so beautiful and stubborn. Fate brings them back together with Noah proposing to marry Pilar. She refuses, but Noah can be charming. Also the Spanish might be hot on her trail. This was a delightful enemies to lovers story. First, they cross blades, then barbs, and finally kisses. Their sword fight was my favorite part of the book. I absolutely love Beverly Jenkins and her historical romances never disappoint! Her characters always have depth and the historical elements are rich. I love her witty dialogue that often makes me laugh out loud. If you love Pirates of the Caribbean and love interests with a penchant for sword fighting, this is a must-read.
The Proposal by Jasmine Guillory was exactly what I needed after reading The Girl with a Dragon Tattoo. Nikole is dragged to a Dodgers game by her actor boyfriend. Even though they hadn't been dating long or very seriously, he pops the question on the jumbo screen. Flustered and ambushed, Nik rejects him in front of the whole stadium. Now ex-boyfriend is actually a grade-A jerk. He storms off leaving her there to fend for herself. Thankfully, Carlos and his sister come to her rescue and whisk her away. If you've read the previous book, The Wedding Date, you'll already know that Carlos is a great guy. Nik doesn't know him, but gets a good vibe and invites Carlos and his sister for a drink. They did basically save her life. Nik's friends show up and they all really hit it off. Fresh off a rejected engagement, Nik is not looking for anything serious. Carlos is a busy doctor and has decided to focus on his family after his father's passing. Nevertheless, these two can't seem to stay away from each other. Their attraction is palpable on the page. My favorite part of the book is the enchilada cooking date. It's hilarious and romantic all at once. And it made me hungry! Their insecurities led to the ultimate climactic conflict between the couple. As with both novels, I really loved the characterization of the secondary characters that surround these protagonists. Nik is coming into her own as a writer and I loved how Carlos respects her drive. His character had a penchant for taking his problems all on himself. I like his arc coming to terms with not needing to be "the man of the family". I especially loved his sister putting him in his place. I was rooting for these two from the start and the ending was very satisfying. If you're looking for a witty contemporary romance with a healthy dose of heat, definitely pick this up. I found this book funnier than The Wedding Date, but equally as sweet.
The July sponsored book club read for Mocha Girls Read was Farrah Rochon's The Boyfriend Project. Samiah is smart, sexy, but not lucky in love at the start of the book. She finds out the guy she was seeing was dating two other women and taking them to the same place near her house. She tosses that scrub to the curb and decides to befriend the other two women in a hilarious confrontation scene. The three women make a pact to focus on themselves and fulfilling their dreams. Samiah is pretty much killing it at the tech company but dreams of developing an app of her own. She decides to finally start making it a reality. Despite the pact, sparks fly with a new coworker named Daniel. They hit it off almost immediately even though Daniel has reservations. He has a secret that eventually gets in the way of their courtship. I don't want to give it away, but it was definitely an interesting twist to this office romance. I liked how the protagonists bonded over conversations during lunch. There's some lust but they do try to get to know each other first. This was such an easy and fast read. Much of the book is dedicated to Samiah finding herself and the budding friendship between the women. The romance was almost the cherry on top. I'm all on board to read the sequels and learn more about the other women. If you're a fan of Living Single or Girlfriends, I think you'll enjoy The Boyfriend Project. It just got option-ed so I hope to see this story brought to life on screen soon!
And with that, I finally hit my CBR12 half-cannonball goal for 2020.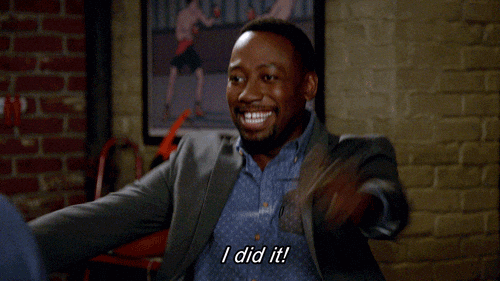 Read more of my romance book reviews on my blog, Confessions of a Pop Culture Addict.