I read A Study in Scarlet a few weeks ago to prepare for Cannonball Read and… forgot to review. So here's my quick review before I dive into the discussion posts because I don't want to be influenced.
I'd read this before as a kid, when I went through a big Sherlock Holmes binge and read as many of the stories as I could get my hands on before I eventually got rather bored. Reading this now as an adult, I remember why I got bored–this one struggled to hold my interest. And this is one of the more exciting ones, in some ways!
What I Liked: Watson. He feels much more of a character in his own right, not just a sidekick. After so many adaptations of Sherlock Holmes over the years, Sherlock usually takes centre stage in the imagination. But really, here he's just a kind of weird roommate that this doctor with an interesting and rather tragic history comes across. I like this Watson, who scoffs at Sherlock's article in the newspaper and serves as a much better audience-substitute than other Watsonian renditions.
Relevant: Kate Beaton's wonderful Hark! A Vagrant take on Holmes: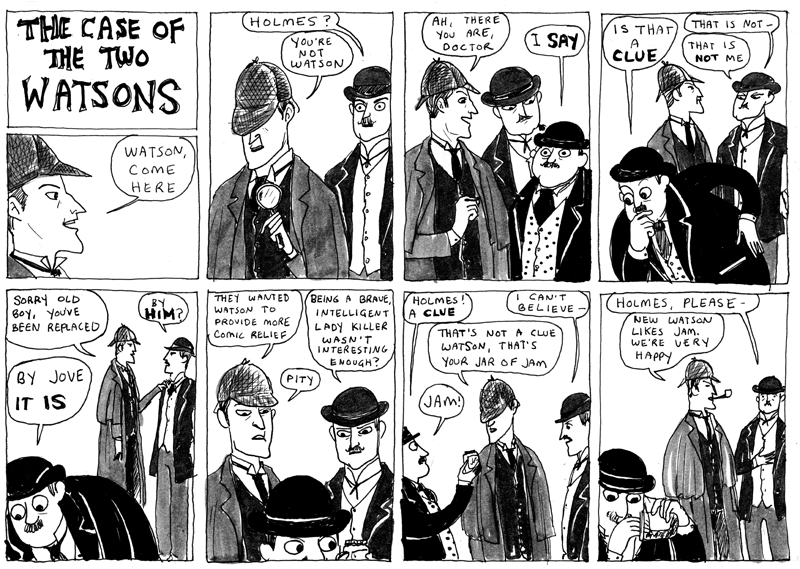 What I Disliked: Doyle's way of introducing us to the parts of history we need to understand the mystery. It's jarring, discordant, and worst of all, it completely deflates the actual mystery itself. I understand that this is, in many ways, the granddad of the mystery genre. It's just a pity it weren't more subtle. Imagine reading this in serialized form when it was first published and being really confused about what happened to the doctor and his weird-ass roommate.
Now off to see how the discussions are going!
N.B. I read the Project Gutenberg version of the book which was bland, unsurprisingly, but also contained editorial notes about misspellings, which was rather amusing. I feel like a published version wouldn't have detracted from the text so much.