"Little Women" takes place during the American Civil War. The four March sisters (Meg, Jo, Amy, and Beth) are home with their mother (Marmee) and their maid Hannah while their father (known as Father) is away fighting. What I found interesting about the March family was how progressive the attitudes of the parents were and how that helped shaped their four daughters.
So here's the thing. Amy is my favorite. I can't help it. I know a lot of book readers love Jo the best, but Jo always rubbed me the wrong way even when I was a kid. Because for all of Amy is selfish talk (no she was just a typical 12 year old girl), I found Jo maddening at times because she went into a temper anytime she didn't get her way. I also didn't buy who she ends up with at the end.
I found Amy's honesty refreshing (she knows she is vain and spoiled and tries to be better) and when she gets older, I thought it was pragmatic of her to say look I know I am beautiful and I know I will not be a poor man's wife. I got to love a character that is not trying to B.S. anyone.
The flow actually works very well in this book. We initially start off when the girls' father is gone and then he circles back to him coming home. Then we jump start to the girls starting to grow up with the engagement of Meg to John Brooke and then their marriage. I do think the book does slow down a bit when it turns squarely to Meg and John's first years of marriage and them adjusting to life with twins. I thought there was a practical advice in their, but the book slows down and then jumps around a lot when it moves to Jo moving away to be a governess and writing.
The setting of "Little Women" takes place in New England. We get a sense of the home they live in and the town as a whole.
The ending always makes me sigh a little bit, but happy, because we always have "Little Men" to move onto next. I think what makes Little Women so great and so well loved centuries after Louisa May Alcott's death is simply that the characters (all of them) and the family resonate so much with readers. "Little Men" is good, but it doesn't hit me in the same sweet spot. I really didn't like "Jo's Boys" much at all and would like to just to think of different endings for the characters I grew to love through three books.
That said, I am so not excited about the new movie coming out. I think it's because Greta Gerwig's directing bugs me and I don't want anyone to mess up the overall message of the book by trying to have Laurie and Jo really in love with each other or some other mess. No, as a girl I never thought they should be together. They would have murdered each other within a week.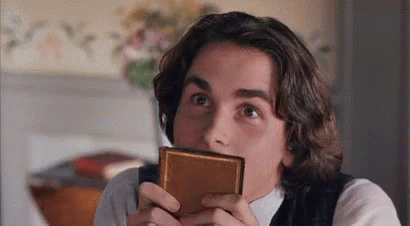 I read this book for CBR11 Book Bingo "Back to School" square. I have been reading this book since I was a kid and luckily enough for me read this for school for a book report when I was in middle school. I recall at the time saying that I loved the March family and how I always wanted to be like Amy and end up traveling around Europe and painting.  FYI, I can't draw for anything so I was also delusional during middle school.