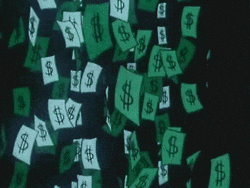 It boggles my mind that people can get away with swindling banks and governments and other institutions to essentially steal millions of dollars. It boggles my mind that our president seems to be one of those people. But this book focuses in on Malaysia and a low life high profile scammer named Jho Low. This book is basically the dark mirror flip version of Crazy Rich Asians. Instead of feeling awed and entertained, prepare to feel queasy and disgusted if you pick this book up.
Low attended prestigious schools in London and the United States while growing up, rubbing elbows with the connected and wealthy, despite coming from a moderately wealthy Asian background. He kicked around for a while, trying to get wealthy facilitating real estate deals until he was inspired by Saudis and helped start the Malaysian sovereign wealth fund. With the help of other people involved in the fund, they proceeded to swindle over a billion dollars from Malaysian people. All this couldn't have been possible without the nifty help of corrupt bankers of course (looking at you Goldman Sachs).
Along the way, various celebrities get involved (Leonardo DiCaprio, Paris Hilton, Britney Spears, Alicia Keys, Miranda Kerr, Kimora Lee Simmons, Nicole Scherzinger, Busta Rhymes). Low was obsessed with celebrity and even invested heavily in music and film. His production company was behind The Wolf of Wall Street film (so so so ironic) and he was frequently in the company of DiCaprio.
"Then, in a cascade of bad luck, taking all of ten minutes, he lost $2 million. The stunned entourage couldn't compute the way he parted with money—seemingly without breaking a sweat—and some began to whisper about this guy, and how he acted like the cash wasn't his own."
At one point, Jordan Belfort sees Jho Low and his crew partying and says something about how they must be getting money illegally to be spending so much cash so fast. When the actual Wolf of Wall Street calls you out for being sketchy, you know you're a fucked up human being.