This little beginning of the month Harry Potter re-read is turning out to be quite delightful. Normally I just mainline them as fast as I can back to back. But new month, new Harry Potter book to read, is a nice change! A little trip to Hogwarts to start February off right.
I'm going to continue with the format I used last go-round, since it was pretty stress-free, and didn't involve a heck of a lot of thought. Plus, my usual tactic with reviews is to focus on the big picture, ignoring all the small stuff. It's nice to only focus on the small stuff for once.
This is still my least favorite Potter book, but not because of the plot or the themes, or the new characters. I quite like all of them, even the annoying ones (and pretty much all the new characters have one irritating characteristic or another . . . ) Dobby is so sweet and pure but he doesn't use his brain when trying to save Harry and it frustraattttes me. Lockhart. Colin Creevey. Myrtle.
No, what makes this book slightly lesser than any of the others is that it's the only one that is written into the typical children's/middle grade format where you spend the entire first chapter, and maybe some of the second, re-telling your reader a bunch of things they already know, and this is either done because publishers or editors think readers are much less capable than they actually are, or because they want to make it so that new readers can jump in without having read the first book. Either way, the motivation is money. Once this series became a bestseller, they pretty much let Jo do what she wanted and this nonsense knocked off.
And this book is still great, despite that! It gently introduces a bunch of darker themes that later she will do a lot with. And in hindsight, she does so much preparation for the endgame, and you see none of it the first time around.
– – –
"Pass the frying pan."

"You've forgotten the magic word," said Harry irritably.

The effect of this simple sentence on the rest of the family was incredible.
I just like this little scene because my mom used to say that to me when I was a kid, and it always annoyed me. I enjoy how sassy Harry continues to be, and it's amusing at the same time to see such an innocuous little phrase causes the Dursleys to have such an overreaction.
No cards, no presents, and he would be spending the evening pretending not to exist. He gazed miserably at the hedge. He had never felt so lonely.
This just reminded me of the time when I was a freshman in high school that all my friends pretended to have forgotten my birthday as a "fun joke," but it was not fun, and I ended up crying alone in the bathroom because I didn't want to say anything, and then crying harder at lunch when I realized they had been messing with me. Guys, do not play jokes like this on your emotionally trusting and gullible friends. It will not amuse them. (They all felt really bad afterwards. I probably milked it a little.) Anyway, I seriously empathize with Harry in this moment, just wishing for Ron and Hermione, and thinking they forgot about him on the very day his friends are supposed appreciate him the most.
"You've just ruined the punch line of my Japanese golfer joke . . . One more sound and you'll wish you'd never been born, boy!"
I read in an interview Jo gave one time that this joke is actually very racist. I tried several times over the years to track it down, but my efforts were halfhearted at best. I am still curious about it, though.
"It's a bit small," said Ron quickly. "Not like that room you had with the Muggles. And I'm right underneath the ghoul in the attic; he's always banging on the pipes and groaning . . ."

But Harry, grinning widely, said, "This is the best house I've ever been in."

Ron's ears went pink.
This is a sweet moment for both of them. Ron is embarrassed by what he sees, and others see, as his poverty, but all Harry sees is a wealth of exactly what he had been missing all his life. Harry doesn't care about things, he cares about love and affection, and the fact that Harry can see what is good about Ron's life is validating to Ron in a way he's probably never felt before.
"But you're Muggles!" said Mr. Weasley delightedly. "We must have a drink! What's that you've got there? Oh, you're changing Muggle money. Molly, look!"
I really want to know exactly what the process is for Hogwarts when a Muggle-born student is invited to attend Hogwarts. How do they break the news to the Muggle parents? Are there social workers for that? Does Dumbledore do it himself? How did the Grangers get in to Diagon Alley if they don't have magic? Is there a list of instructions for these students specifically? It would have to be horrifically detailed.
1. What is Gilderoy Lockhart's favorite color?
2. What is Gilderoy Lockhart's secret ambition?
3. What, in your opinion, is Gilderoy Lockhart's greatest achievement to date?

On and on it went, over three sides of paper, right down to:

54. When is Gilderoy Lockhart's birthday, and what would his ideal gift be?
Every time I read this book, I have such a hard time with Hermione not seeing through Lockhart immediately. He is a buffoon, transparently. Even if you buy that he did all the things he says he did in his books, he is clearly a terrible teacher. None of the things on the quiz involve learning about Defense Against the Dark Arts, they involve learning about Lockhart. You're better than this, Hermione!
Filch was looking triumphant.

"That vanishing cabinet was extremely valuable!"
SPOILERS. We saw the pair to this vanishing cabinet earlier in the book when Harry hid in it at Borgin & Burkes. These vanishing cabinets become very important in both Order of the Phoenix and Half-Blood Prince. Nick's actions here directly ensure that it will be stashed in the Room of Requirement, that Montague will be shoved into it by Fred and George during the hullabaloo surrounding Umbridge, that Montague will discover its powers and that it's linked to a cabinet outside Hogwarts, thus also ensuring the fight at the end of Half-Blood Prince, and Dumbledore's murder by Snape (though we learn later that this would have happened eventually anyway). Such beautiful plotting.
Professor Binns was looking at [Hermione] in such amazement. Harry was sure no student had every interrupted him before, alive or dead.
I just want to take a moment to talk about how angry it makes me that Professor Binns and other teachers like him do such a thorough job making history seem boring when history is CRAZY. I did not appreciate how interesting it could be, and how important and relevant, until I was out of school. It is the rare history teacher that can make their subject come alive. Maybe if I would have studied it in undergrad I would feel differently, but certainly as a high school and middle school student good history teachers were rare. This is a crime and a tragedy.
"All we'd need would be some Polyjuice Potion."

"What's that?" said Ron and Harry together.

"Snape mentioned it in class a few weeks ago—"

"D'you think we've got nothing better to do in Potions than listen to Snape?" said Ron.
Ron is really funny in the books, in a clever way. They kind of neuter him in the movies. Sassy Ron and Sassy Harry BFFs.
"the immensely complex Homorphous Charm"

"—and another village will remember me forever as the hero who delivered them from the monthly terror of werewolf attacks."
I have always wondered about this so-called charm. If it exists, why didn't somebody try to help Lupin with it? Is it something that only very, very talented wizards can pull off? Is it dangerous? Could Dumbledore have done it? It must exist, since Lockhart mentions taking all his stories from other, real people, who he then performed memory charms on. I want to know more about this spell!
Ginny Weasley, who sat next to Colin Creevey in Charms, was distraught, but Harry felt that Fred and George were going the wrong way about cheering her up. They were taking turns covering themselves with fur or boils and jumping out at her from behind statues. They only stopped when Percy, apoplectic with rage, told them he was going to write to Mrs. Weasley and tell her Ginny was having nightmares.
So basically this whole book is everyone torturing Ginny unknowingly. Everything that happens, Ron and her other brothers, and even Harry and others, makes worse because none of them know about Riddle's diary and that she's been setting the basilisk loose on his instructions, and feeling terrible about it. They interpret it all as her just being a silly first year, when really she's the total opposite. She's a badass, and she acts out of character for an entire year.
"Just do what I did, Harry!"

"What, drop my wand?"
Sassy Harry strikes again. They cut this line from the movie, and I'm always upset about it. That scene in the movie is way too overdramatic.
"Oh, Potter, you rotter, oh what have you done,
You're killing off students, you think it's good fun — "
Another thing that is missing from the movies: Peeves. Although, I'm not sure the movies could have pulled him off very well, so maybe better they didn't even try.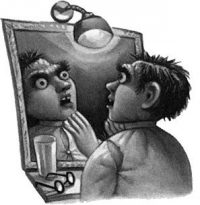 I just love this little Mary GrandPre illustration. It's the opening to Chapter Twelve, with Harry looking at his Polyjuiced Goyle face in the mirror. It looks even goofier in my older edition because the ink's all messed up.
"What's the new password again?" he said to Harry.

"Er — " said Harry.

"Oh yeah — pure-blood!" said Malfoy.
OKAY. So this is something I want to talk about! "Pure-blood" is legitimately Slytherin's password. The entire house of Slytherin. Just going along with anti-Muggle, anti-whatever sentiment. How is this okay? Who sets these passwords? Prefects? I know, #NotAllSlytherins, but with this kind of thing basically out in the open, if you're a Slytherin, how could it NOT be all Slytherins?
"But I know one thing — last time the Chamber of Secrets was opened, a Mudblood died. So I bet it's a matter of time before one them's killed this time . . . I hope it's Granger," he said with relish.
AND ANOTHER THING. I do not and never will understand the appeal of Draco Malfoy to a certain kind of person. Sure, he's tragic and brooding in his later years, and as a youngster is just spouting off the poppycock his family's been stewing him in. But nurture aside, he's still not a good guy. Here, saying things like this, how can you like this little shitstain? He's wishing for someone's death! And not just anyone's death, but Hermione's, one of our main trio! (This is very similar to how I feel about Snape, who is a cruel bully, love for Lily aside. but more on that in later books.) On the other hand, I do wonder if he really even knows what he's saying. BUT AGAIN. Harry also did not experience love or nurturing or great ideas about kindness or empathy growing up. Malfoy still has a choice, and he's choosing to be actively terrible.
"Could've been anything," said Ron. "Maybe he got thirty O.W.L.s or saved a teacher from the giant squid. Maybe he murdered Myrtle; that would have done everyone a favor . . ."
I love when Jo messes with the reader like this. And coming out of Ron's mouth, it's even better. Riddle totally did murder Myrtle, and totally did get an award for it. Well, an award for "solving" her murder. But he totally murdered her before he solved her murder.
"I don't think Potter liked your valentine much!"
Do we ever find out for sure that Ginny did send Harry the valentine? Part of me feels like she's way too traumatized at that moment to be doing something so frivolous. But later, we hear Riddle repeating bits of her diary, and her preoccupation with Harry is in there. Could go either way, I suppose. I wouldn't put it past Colin Creevey to have sent it, either.
Down the moving spiral staircase they went, emerging next to the gargoyle in the darkening corridor. Riddle stopped, and so did Harry, watching him. Harry could tell that Riddle was doing some serious thinking. He was biting his lip, his forehead furrowed.

Then, as though the had suddenly reached a decision, he hurried off, Harry gliding noiselessly behind him.
I love this little moment. Harry is empathizing and interpreting it one way, but we know on a second (or third, or fourth . . . ) read that this is the moment that Riddle is weighing the benefits of keeping on killing Muggles vs. his deep need for Hogwarts, and his desperation not to go back to the Muggle world, where he is nothing and nobody, and can't even do magic. The decision he makes isn't to finally turn Hagrid, the real culprit, in, as harry thinks. The decision is to use the information he has about Hagrid keeping a baby acromantula in a box to make himself a scapegoat, and then quietly retire his basilisk until a future date.
It was now nearly four months Justin and Nearly Headless Nick had been Petrified . . .
I hope they held Justin back a year. He missed that four months of lessons, plus what, two more? Three? Hermione can easily catch up on what she missed. But that kid is going to need some help.
"The moment they start trying to move into each other's pots we'll know they're fully mature," she told Harry. "Then we'll be able to revive those poor people in the hospital wing."
"Hidden Sexuality in J.K. Rowling's Harry Potter Books: A Thesis." Horny mandrakes! (But as a kid, I just thought it was funny that they would move into each other's pots. Riiiight over my head.)
"But why's she got to go to the library?"

"Because that's what Hermione does," said Ron, shrugging. "When in doubt, go to the library."
Classic.
And if the culprit wasn't caught soon, he was looking at a lifetime back with the Dursleys. Tom Riddle had turned Hagrid in because he was faced with the prospect of a Muggle orphanage if the school closed. Harry now knew exactly how he had felt.
This moment is the heart of the book. Harry is empathizing SO HARD with Voldemort (the villain! the guy who kill his parents!). And there DO seem to be many, many similarities between him and Voldemort/Riddle. But those similarities only make the differences stand out that much more. Tom Riddle never would have looked at Harry in a similar situation and felt for him. Tom Riddle doesn't even acknowledge his own emotions, let alone that other people are real and have them, too. I also remember what it was like reading this before knowing Riddle was Voldemort, how emotionally attached I got so quickly to him, because he was like Harry, and because Harry could sense it, and was attached, too.
"That tap's never worked," said Myrtle.
Okay, remember last month when the internet freaked out about one of the Pottermore revelations? I did not understand the fuss. It makes perfect sense that wizards would not bother with a disgusting outhouse or whatever horrorshow medieval humans used to deal with their piles of shit. What HAS always bothered me is how the Chamber of Secrets entrance could have been built in a bathroom with modern plumbing, when clearly Salazar Slytherin built it long before plumbing even existed. But Jo answered that! And now I legitimately feel better because this has bothered me for years:
"There is clear evidence that the Chamber was opened more than once between the death of Slytherin and the entrance of Tom Riddle in the twentieth century. When first created, the Chamber was accessed through a concealed trapdoor and a series of magical tunnels. However, when Hogwarts' plumbing became more elaborate in the eighteenth century (this was a rare instance of wizards copying Muggles, because hitherto they simply relieved themselves wherever they stood, and vanished the evidence), the entrance to the Chamber was threatened, being located on the site of a proposed bathroom. The presence in school at the time of a student called Corvinus Gaunt – direct descendant of Slytherin, and antecedent of Tom Riddle – explains how the simple trapdoor was secretly protected, so that those who knew how could still access the entrance to the Chamber even after newfangled plumbing had been placed on top of it." [source]
He pulled Harry's wand from his pocket and began to trace it through the air, writing three shimmering words:

TOM MARVOLO RIDDLE

Then he waved the wand once, and the letters of his name rearranged themselves:

I AM LORD VOLDEMORT

"You see? he whispered. "It was a name I was already using at Hogwarts, to my most intimate friends only."
I've never really stopped to think about this moment before, but Voldemort chose his own name, which translates roughly as "fleeing from death", yes? Of course Jo chose it, but he did too. He knew what he wanted from day one. There's also something vaguely hormonal and overdramatic, something very teenager-like, about this behavior. I wonder if before Harry defeated him, Voldemort ever read his old diaries and was just like, Oh my god, why did I write this? Somebody burn it right now. Probably not, way too human of a behavior.
"I seem to remember telling you both that I would have to expel you if you broke any more school rules," said Dumbledore.

Ron opened his mouth in horror.

"Which goes to show that the best of us must sometimes eat our words."
I love that Dumbledore isn't afraid to admit that he's wrong, and the message that sends, that authority is not always right, and should be questioned or disobeyed if necessary.
"Harry had been to several Hogwarts feasts, but never one quite like this. Everybody was in their pajamas, and the celebrations lasted all night."
This sounds amazing. Maybe I will try to throw a dinner party, and I will make everyone wear their PJs and stuff ourselves silly, and our pants will be stretchy so, it will be okay!