Despite being well-versed in the urban fantasy genre, I had yet to dive into the Charley Davidson series by Darynda Jones. It's a new year, so why not jump into a new one? 🙂 First Grave on the Right introduces us to a tired and bruised Charley Davidson being woken up from a very sexy dream by a dead lawyer. Needless to say, she's pretty peeved. Before she can get her bearings,  her police detective Uncle Bob (UB for short) calls her to a murder scene. Even though it's the dead of night, this is normal for a private detective consulting for the Albuquerque PD. Charley's special skill keeping her on their speed dial is her ability to speak to deceased murder victims. Convenient perk of being a Grim Reaper, but it can be a pain in her ass.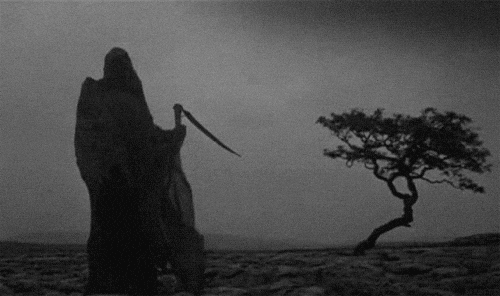 Charley doesn't have a cloak. But she does help dead people pass onto the other side, usually by helping them resolve unfinished business.
She arrives on her Uncle's crime scene to find the body of a lawyer who partnered in the same law firm as her bedroom ghost. And before she can blink, a third lawyer ghost from the same firm says hi to her fellow ghost colleagues. Charley and UB have a triple murder on their hands. Her uncle enlists the help of a sexy bounty hunter, Garrett Swopes, to help track down a potential witness of the case with Charley. Unfortunately, Charley can't stand the insufferably handsome jerk. He is skeptical of her gift ever since her Uncle told him about her way with the dead. He basically thinks she is crazy. Even after he's made to believe, he becomes more interested in her much to Charley's chagrin.
To complicate things, a man from her past, Reyes, reappears in her dreams every night to seduce her! She can't seem to get him out of her head. There's something strong causing her to see him in unexpected day dreams but then disappearing like smoke… Another "perk" of her supernatural gift is she can interact and touch ghosts. Meaning being kissed in her dreams could mean Reyes is a ghost.
But Charley isn't so sure.  She is determined to solve this case while simultaneously figuring out if Reyes is in her mind, dead, or somehow still alive somewhere. The truth is weirder than she ever thought could be real. And that's pretty insane since she's a GRIM REAPER.
I enjoyed the first book of this series. Charley isn't a very complex character, but she is entertaining. All the characters and her world came to life easily within a few chapters. One of my favorites was Cookie, her highly caffeinated receptionist who wanted all the dish about Charley's sex dreams. The Reyes story line interested me more than the actual case of the book. It ends with a whopper of a revelation, so I'm inclined to read book two at some point. I would recommend this book for anyone who enjoyed Jaye Well's Prospero's War series, Deadbeat on Hulu and readers who love detective stories with a dash of black humor.