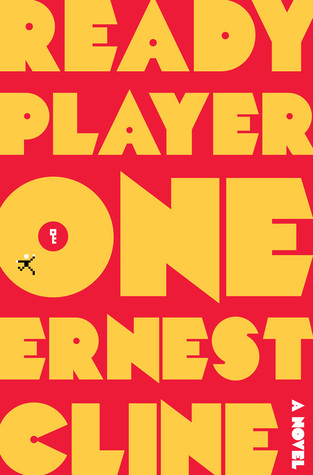 I totally get it. There has been a lot of hype surrounding Ready Player One, and now that I've devoured it, I am here to validate the crap out of that hype.
I have so many questions about this book. It checks a lot of boxes for popular YAish fiction: not-very-far-in-the-future dystopia, evil corporation as bad guy, poor underdog from the slums as hero, lots of CGI opportunity in the event of an inevitable film adaptation, action, adventure, adolescent love, pack of unlikely friends surprised to find themselves in alliance. It's very true-to-form, somehow playing out as much like current popular fiction and also sticking close to classic video game format, and I think that adherence to the structure contributes immensely to its readability.
But then, it is EXTREMELY nerdy in ways that super duper appeal to me. It cries out to anyone who came of age in the eighties loving pop culture, video games, and nerdy books. As a child of the eighties who self-identifies as nerd, geek, and at-times-titled-so-but-never-actually-a-loser, I devoured comic books, beat the crap out of Donkey Kong, memorized every line in all the movies in the "Star Wars" (original), "Indiana Jones," and "Back to the Future" trilogies. And so on. I speak in movie and TV quotes. I reread The Hitchhikers Guide to the Galaxy every few years whether I need it or not (or not? who am I kidding? I always need it!).
And this is the characterization of every hero in Ready Player One, times infinity. These are EXTREME nerds doing EXTREMELY nerdy things and we are SERIOUSLY rooting for them to succeed. How did this sell? Who are all the people reading this book hot off the presses? Did everyone in America get a wedgie in high school, and they're just not talking about it? Is no one in America actually Biff Tannen?
I'm thrilled about it. And I also want to know so many things about the author, Ernest Cline. How much of this trivia was just inside of him? How many times did he think, "oh, I'll source this particular D&D manual, let me pull it off the shelf!" Did he beat Tempest as a kid? Could he still do it? Does he watch "War Games" when he's home sick with the flu?
Suffice to say, the world he's created for Ready Player One, while sad and a little scary (dystopia, donchaknow), it's also completely believable, and as addictive as the online environment (OASIS) that he describes within it. I can absolutely imagine how gaming could be leading to a world such as the one in this novel, and how only by the grace of strong leadership will it escape being entirely corrupt. Also, shout out to Wil Wheaton for being a background hero mentioned only once, because he legitimately might be the last good guy standing after we finish smashing the patriarchy in real life.
Oh, speaking of the patriarchy, I did write myself a note early on that I noticed that in the detailing of the vast catalog of authors and creatives that influence the "game master" in the novel, there was not a single woman. I say this not to attack Cline's feminism, because he writes some lovely female protagonists into the story (though the main protagonist, Wade's emotional intelligence is exactly at the level one might expect from an adolescent nerd), but to point out that I learned this about myself: the catalog is also the catalog of my early influencers, if you add, say, Margaret Atwood, Marion Zimmer Bradley, Margaret Laurence, a bunch of playwrights (most male, though some female), and Ann-Marie MacDonald to the mix. The times are changing; today's youth will remember JK Rowling, Suzanne Collins, Shonda Rhimes, oh and look at this recent list of American female comic authors, and this sad, shorter list of women in the gaming industry. Onward, nerds of now and the future!!