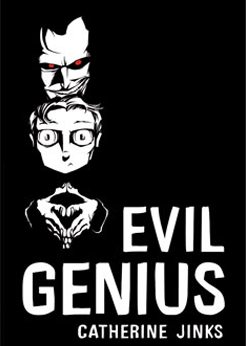 This was an impulse library check out since the YA room was right there when I was returning some DVDs and I didn't feel like running upstairs. I'm so glad that I grabbed it, it was right up my alley.
Cadel is a young genius, taken to see a psychologist for troubled youth after he gets caught hacking into the power grid in his Australian city, at the ripe old age of 7 years old. But oddly enough, the first thing Dr. Roth does is let him try to break the security on his office computer. Soon Roth is convincing Cadel's adoptive parents to send him to the Axis Institute where he can be taught how to fit in and channel his genius. It turns out that Cadel's real father is a super villain, now in an American prison for life, but still influential and rich enough to endow a school to teach budding super villains how to take over the world. Cadel is super happy to be allowed to tinker with computers as much as he wants in his infiltration class, he's taught how to lie and forge and embezzle and to trust no one. There are some super shady characters both in the student body and in the teachering cadre and soon Cadel's trying to figure out how to apply the social engineering lessons he learned in high school to exploit the weaknesses he sees at Axis. He'd also started early on a money making scheme, making a dating web site where he was impersonating most of the ideal matches (who often lived in Canada). But soon he's neglecting most of his fake personas in favour of bonding with a super smart woman who loves numbers as much as he loves computers (I could just about follow their geekery). The book covers quite a few years as he races through high school and gets to Axis to start his post secondary education at 13 or so, and his coming of age is very well done – he learns about the consequences of his actions, who he can trust, and that sometimes being nice for the sake of making someone else feel better (as opposed to manipulating them) is worthwhile. Clear your schedule when you get near the end of this book, it takes off and doesn't let you go as the climax barrels down on you.
In another real world intruding on my reading incident, I read this in a single day while a manhunt was going on for an escaped federal prisoner (he was caught just as I finished this up). That guy definitely didn't take the disguises class at Axis, a large neck tattoo was easy to spot!