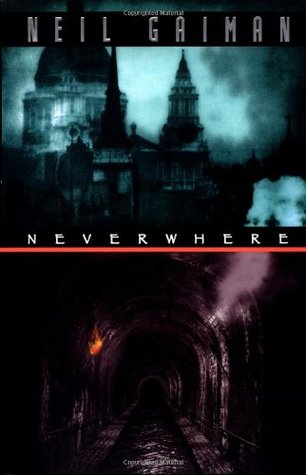 I had a very bad day on Thursday. But I had the day off from work, and some time to collect myself, so I decided to run a bath at 11 o'clock in the morning. I needed reading material — because I can't take a bath without it — but I had finished my previous book and hadn't yet started a new one. Between my crappy mood, and the fact that I didn't want to get out of the tub to get a different book, I didn't want to take a chance on something new. So I decided to go with a classic, something that I have read over and over and never fails to bring me joy. I picked up Neverwhere.
I first read this book in sixth grade when my best friend Beth lent it to me. I went out and bought a copy and have probably reread it once or twice a year ever since. I'm not certain I've ever reviewed it for CBR though, so here goes.
"Richard wrote a diary entry in his head.
Dear Diary, he began. On Friday I had a job, a fiancée, a home, and a life that made sense. (Well, as much as any life makes sense). Then I found an injured girl bleeding on the pavement, and I tried to be a Good Samaritan. Now I've got no fiancée, no home, no job, and I'm walking around a couple of hundred feet under the streets of London with the projected life expectancy of a suicidal fruitfly."
Neverwhere is the story of a fairly boring young man named Richard Mayhew. Richard moved to London to follow a new job, met a girl, got engaged and basically lives a normal life. One night, while out with his fiancée, he sees a girl in a doorway. She's obviously injured and in need of help. Despite his fiancée's protest, he goes and helps the girl. She turns out to be named Door, and in a world of trouble. Despite her best efforts, she sucks Richard into the turmoil and basically destroys his life. Door has lived her life as part of an underground society called London Below. It's full of magical and frightening people, and through Richard's rather naive eyes we see how this society functions — floating markets and magical bodyguards and a girl who can open any door. We also watch as Richard slowly evolves into something more than he always has been.
It's an incredible story. It's extremely violent. The main bad guys — Croup and Vandemar — are horrifying…
"There are four simple ways for the observant to tell Mr. Croup and Mr. Vandemar apart: first, Mr. Vandemar is two and a half heads taller than Mr. Croup; second, Mr. Croup has eyes of a faded china blue, while Mr. Vandemar's eyes are brown; third, while Mr. Vandemar fashioned the rings he wears on his right hand out of the skulls of four ravens, Mr. Croup has no obvious jewelery; fourth, Mr. Croup likes words, while Mr. Vandemar is always hungry. Also, they look nothing at all alike."
It's also very, very funny, and every time I reread it I find something new. This book is what launched me into being a huge Neil Gaiman fan, and it will always be comfort food to me.