Let's get one thing out of the way before we review this book.
This novel was adapted into a perfect movie. A perfect movie staring the inimitable Paul Newman.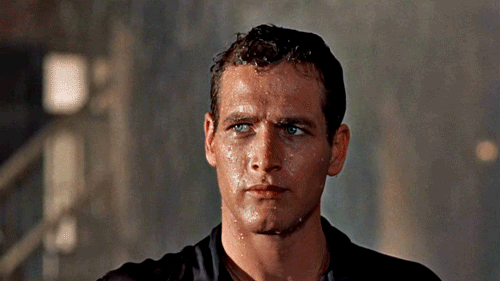 No, not that Paul Newman. He's a few years older.
Nope, keep going.
Pretty close. But less huggable. More irascible. A Paul Newman who's been through the ringer a few times. A Paul Newman who's going through a stupid streak, and knows it won't end until he's messed things up completely. A Paul Newman who, while charming and endearing in his own way, is pig-headed and generally regarded as an asshole by people who know him. A Paul Newman with a bum knee; a 60 year old divorced father of a son he doesn't know. A Paul Newman who spends his time coveting the wife of a friend and boss he doesn't respect while mostly failing to maintain a 20-year affair with the wife of yet another man he's neither friendly towards nor in the employ of.

Pretty good. That's who we're working with.
I love this movie. Probably seen it a half-dozen times. And while I've read other Richard Russo books (A Simple Man and Empire Falls), and enjoyed them immensely, I've never actually read this one. Since, much to my surprise, Russo wrote a sequel, I guessed it was high time that I remedied that mistake before diving into Everybody's Fool.
And I found the book to be…..exactly what I expected it to be. There's a delightful cast of characters, and the small town of Bath, NY (North Bath, to be precise) feels real and familiar. Like Stephen King, Richard Russo excels at creating small American towns and filling them with likable, flawed people with too few prospects and a comparable amount of ambition. His worlds are lived in, with rounded edges and worn textures.
Donald "Sully" Sullivan has no earthly bonds, apart from a son he doesn't think about, grandchildren he doesn't recognize, an ex-wife he couldn't care less about, friends he barely sees as such, and a girlfriend who is married to someone else. He's hobbled by a swollen knee that he drags around behind him in the hopes that it'll lead to his salvation; though he has little hope that this injury (sustained on a job) will allow him to retire early, his lawyer, Wirf Wirfley, drags that dead horse into court just often enough to beat it in front of a judge. Having no responsibilities, Sully can get away with working odd construction jobs with his only apparent friend, Rub Squeers, and relies almost exclusively on a man who can best be described as his main antagonist: Carl Roebuck, misbegotten son of one of the few people Sully has ever respected and husband to the most beautiful woman in bath. This book tracks Sully through the town and his various interactions with its strange folk as he begins a "stupid streak", a period of compounding idiocy which he has no control over but is in complete awareness of.
I loved every page of it. It was a pure delight to read.
With that said…..
Not everyone's a fan. Not of this book specifically, but of Richard Russo, generally.
And I can't actually disagree with anything in that review. The women in this novel generally fall into two camps. Beryl Peoples, Toby Roebuck, and Ruth all fall into the first camp described in the above article: the "angels". Their job is to help the protagonist achieve his goals. The other main women featured in the novel, Vera, Rub's wife, and Ruth's daughter are all in the second camp: "bitches" (to some degree or another, though I can't help thinking that's unfair to Vera). But…does the tendency to pigeonhole women into two kinds of characters make an author a misogynist?
I'm not trying to say I disagree with the linked reviewer so much as I'm saying I don't see the jump from "problematic" to "misogynist", and I do think it's indisputable that the lack of representation is terribly destructive on a cultural level. I am trying to say, however, that I always thought the issue was that the male voice was too loud, and thus drowned out that of women, not that the male voice was too wrong. Some might say there's a degree of "distinction without a difference", because we should hold men to a higher standard than we have been (in which case, touche), but I don't think we should necessarily demand that every work of literature fully express the diversity of human life. I mean, am I crazy in that? Aren't there times when a stereotype can serve a purpose? And when the books are this good, can't we make that distinction?
Richard Russo might not be for everyone (but, really, who is?). He writes with the calm warmth of familiarity, of everyday speech. He writes of small towns and lower class life; depressed communities and people who, despite having little to smile about, confront their stark realities with a wryly bemused indifference. But, being so keen to make his characters charming and witty, some of the characterization can fall flat and leave the characters, both male and female, feeling a little like servants to the protagonist's journey. But, is that really a crime? His depictions aren't universal – but I'm not sure they're intended to be. Is there casual sexism in depicting women as either bitch or angel? Yes, I do believe there is. But there is also casual racism, here. There is one black person in the book – one – and he exists only to point out how white the town is. The characters joke about bringing one in from out of town when their token black person moves. One problem doesn't negate the other, but I do think that Russo is trying to paint a certain kind of picture. And even if he couldn't articulate why his women are like this, I think it's still part of the canvas he's trying to create.
I can't get over how large swathes of the country see the world this way. While that doesn't invalidate the view that it shouldn't be this way, does that necessarily mean this kind of reality shouldn't be depicted? Towns were there's only one black person, and people whose only female relationships are secondary to the driving force of their life? Can't these types of stories be told organically, without having to be about how they don't represent everyone?
This may be the wrong point to have this discussion, because I'm reviewing a book, while Jennie Yabroff is discussing Russo's oeuvre, but…..Look. Art works best as a mirror, right? We all want to see ourselves reflected in the art we consume, because it is this familiarity that allows art to fully impact our souls. The problem, as I see it, is that the art of our culture overwhelmingly depicts the lives of straight white men – and that is the basis for so much angst and protest (justifiably). But I don't think anyone has argued that no straight white men should have their stories told, right? The argument is that these types of stories are all too often the only kinds that fill our bookstores and cinemas.
I don't really even know what my problem with this tangent is. Am I arguing for sexism? For racism? No. But it feels like it. Even to me.
I just….I think there's a time and a place for people with less developed lives to have their stories told in a thoughtful and honest way. That's how this book feels to me. I just feel that there are times when it's okay to not always be waving the flag. Maybe it's not with this particular book, for you. Maybe it's a romance novel, with ridiculously over the top sex roles, or Lord of the Rings and its near complete absence of women, maybe its something else entirely. The point is, I think it's important to see other perspectives….even when that other perspective is the default one that our society so often is built on. Only…that's not really a point I want to argue.
But, you know, I'm a straight white man. So all I can do is try to understand what the issues are, and incorporate them into how I see the world, but art works best as a mirror. So, I sometimes look at stories about straight white men and think, "yeah. That seems familiar." What I see, here, is a book full of charming characters and the warmth of a small town written from the perspective of a straight white man who maybe has some unresolved issues with his father and maybe takes out some of his marital frustrations on his characters. And while I certainly see the criticism that this feels like Everybody Loves Raymond (or you could insert virtually any family sitcom) with the long suffering women and clueless men, I think that's both a disservice to this book and a product of deep dissatisfaction with our culture more than Richard Russo.
Ultimately, I don't think the problem is that Richard Russo is a straight white male and that he's writing what he knows, I think the problem is that he is just one of many. If we celebrated more diverse creators (and thus had a wider variety of stereotypes in service of the plot), we wouldn't have to get so hung up on his.
Or (and this is another option), I was just hyper-sensitive to this issue after my last book and took one review a little too seriously.