After a brief respite, I dove back into the Immortals After Dark series with No Rest for the Wicked. Much to my surprise, it had a very realistic (as it could be) romance between the paired supernaturals. Sebastian Wroth has retreated from the world to a dusty Russian castle so disgusted with his vampire existence. He was forcibly turned by his brothers and never forgiven them for it – or himself. He hides in a cave and hungers for death. However, fate issn't done with him and brings Kaderin, the Cold-Hearted, a Valkyrie warrior, into his life.
Since the death of her sisters on the battlefield, the beautiful Valkyrie focused all her energy on killing as many vampires she can find. As a hobby, she loves to compete (and usually win) "the Talisman's Hie, which is basically a deadly, immortal version of The Amazing Race." Before this year's race, she decides to travel to Russia to investigate reports of a vampire – Sebastian of course. She is about to kill him, but notices he isn't fighting back at all. This irks her and piques her curiosity. Surprising to both lonely warriors, a spark of attraction ignites between them that leads to one hell of a kiss. It takes a moment, but he realizes she is his Bride. Kaderin is shocked by the lust that literally reawakens her cold heart. It stirs within so many emotions that she thought were forever lost to her for so many centuries. Even her Valkyrie clan found her unfeeling nature off putting. She hates all these feelings and runs into the sunshine for escape. Even though he is vampire, his mated tendencies make him attempt to follow her into the burning light. This of course freaks her out even more!
Thankfully, Sebastian comes to his senses ever so slightly and realizes that his vampire nature thinks they are mated to her, but he is not truly in love with this stranger after a mere kiss. Nevertheless, he methodically tracks her down to the start of the Hie. He is driven to be near her and learn all he can, spying on her and the assembled supernatural creatures at the secret temple of the Goddess who created the race. The Goddess is intrigued by his earnestness and allows him to enter to follow his heart's desire. The globetrotting race gives the two time to explore their attraction. She is initially annoyed, but curious about him so she agrees to reluctanctly meet him in the evenings. It's not a foregone conclusion she will be with him, which he respects. He truly wants to earn her love and admiration. He watches her back in the dangerous race and even offers Kaderin his treasure prizes to allow her to stay in the lead.
When the sexy times arrive, they are well earned. 😉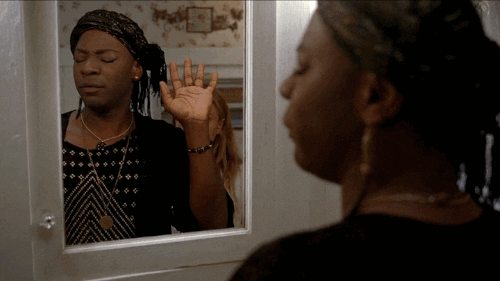 However, there is romance and personal growth portrayed as Cole explores their motivations for living. We really understand why the two warriors were dead inside for so long. Their family histories are key to who they are and will become. I highly recommend this book if you're looking for a romantic adventure narrative akin to Romancing the Stone with a supernatural opposites attract tale.
My previous review of book two, A Hunger Like No Other, on my blog.
BONUS: When looking for the book cover image, I came across this couple re-enacting the alternate cover. LOL.