So a few years ago I got my hands of the complete works of Sherlock Holmes narrated by Stephen Fry and got really excited, because I've always enjoyed mysteries. It then took me about 3 years to wade my way through it after the first book because disappointingly enough, though not necessarily surprisingly, Arthur Conan Doyle is a bit racist, xenophobic, and maybe just a product of his time, but a tad misogynistic too.
Every time he had more than a couple of pages he would find a way to be offensive, which made his books of short stories fine, but any novels impossible to properly enjoy.  I'm not gonna lie, it made me very weary of picking up more classic mysteries.
Alas, a friend mentioned reading the Poirot novels in order, and I decided to take the plunge and give classic mysteries another chance. Plus, it's Agatha Christie, and I remember thoroughly enjoying it when I went to watch The Mousetrap in the West End. I got the audiobook for The Mysterious Affair at Styles from the library, and if it became offensive in any way, I could just DNF it and move on with my life.
It was like a breath of fresh air. I should have trusted Agatha Christie from the start. Poirot is everything Sherlock turned out not to be: funny, attentive and not an arsehole. Yes, he is still very much full of himself and caricature-esque, but in a loving grandfatherly way. Captain Hastings is an absolute idiot, but I feel like he's getting a little better since returning from "the Argentine". The mysteries are ingenious and keep me guessing, and although by definition not all characters in such books can have a lot of depth or nuance and tend to instead fall into a measure of stereotypes, I still feel like she's respectful of her characters and they have agency. Especially the women. They feel real to me.
Also, most of these books are narrated by Hugh Fraser, who played Captain Hastings  in the TV show and he is a joy to listen to. A couple of them (the most known stories) were narrated by David Suchet, who played Poirot and does an okay job of the narration and one by Anna Massey, but Hugh Fraser is my favorite by far. I'm gonna miss his voice once I'm done with this series.
So yes, Agatha Christie is the Queen of Mystery . Deservedly.  And here is a quick review of the 13 books I have read so far.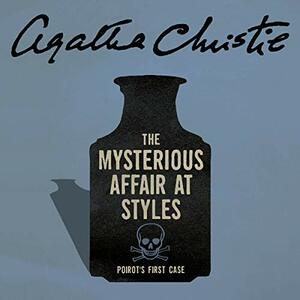 The Mysterious Affair at Styles (Poirot #1) ♦♦♦♦
The book that introduces Hercule Poirot and Captain Hastings is a delightful read. Hasting is visiting a friend in the countryside where after the poisoning of the matriarch he encounters Poirot, an old acquaintance and retired Belgium police detective, now a war refugee.
Poirot is invested in solving the murder of his benefactor, and we get to know a little about him as he put his little gray cells to work. It's a great introduction and very engaging. It made me trust Poirot.
The Murder on the Links (Poirot #2) ♦♦♦
Another wonderful adventure, this time in France. Poirot and Hastings find themselves solving another murder, after Hastings finds himself smitten by Cinderella on the train and then proceeds to prove himself to be an absolute moron. Highly entertaining, but I wanted to throttle Hastings. Just saying.
Poirot Investigates (Poirot #3) ♦♦♦
This is the first collection of Poirot short stories. There are 11 stories in total, and although I wish I could tell you which was my favorite, I can't even remember them anymore. In my very humble opinion, Poirot just does not work through a short story medium. Christie shines in the build up and intricacies of the mysteries, and I just don't think the short story allows her to develop enough to make it that compelling. Still better than a Conan Doyle novel, though.
The Murder of Roger Ackroyd (Poirot #4) ♦♦♦♦♦
This book was absolutely amazing. I don't know if it was just the absence of Captain Hastings, or just because the ending really did catch me by surprise, but our queen of mystery really outdid herself in this one. I absolutely loved it. We get Poirot working alone in this one, working to solve Roger Ackroyd's murder with the help of the town doctor, who is our narrator in this one. Personally, I think Hasting's move to "the Argentine" is the best thing that ever happened to Poirot, but alas, I don't think he'd agree.
The Big Four (Poirot #5) ♦♦
By far, my least favorite one of them all. It might have just been the disappointment after The Murder of Roger Ackroyd, but for me this just did not work. It tried to be an epic, but Poirot shines in cozy mysteries. Spanning years and continents, lives ruined, bloodshed (I'm sorry, I couldn't help myself – bonus points for you if you can name the reference), this novel involves spies and did not sound true to the characters I've come to know and love. I don't know, it was a "no" from me.
The Mystery of the Blue Train (Poirot #6) ♦♦♦♦
And she is back, ladies and gentleman. A murder on the train to the French Riviera marks the first of many of Christie's novels to make excellent use of the moving closed room mystery trope. In my opinion, fantastically done. A lot of her stories rely on this trope, and I'm here for every single of of them.
Peril at End House (Poirot #8) ♦♦♦
Back to England, Poirot and Hastings are holidaying in Cornwall when an attempt at the pretty neighbor's life once again drags them into a full blown investigation. As an aside, at this point, I have to wonder what has happened to Hastings' wife. We haven't seen her since The Murder on the Links, nor heard from her since he left her behind in Argentina to come prance around in England with Poirot. If I didn't know any better, I'd assume he was married to Poirot instead.
Lord Edgeware Dies (Poirot #9) ♦♦♦♦
I'm not going to lie, by this point I'm starting to get confused with all the books – I might have read too many in too short a period of time, but I'm still highly enjoying the way Agatha Christie's brain works. The formula is also pretty clear by now. There is a murder, Poirot pokes around, asks some questions and puts his little gray cells to work, then invites all the involved to dinner and proceeds to make a spectacle of the reveal. Repetitive but effective. In this one, a famous actress is heard threatening her husband's life and is then suspected when he is murdered.
Murder on the Orient Express (Poirot #10) ♦♦♦♦♦
This is Christie's most famous novel, and it is clear why. The pinnacle of the moving closed room mystery, and it is masterful. I feel like my enjoyment was slightly dampened by knowing the end, but it's a really wonderful. If you've been living under a rock, in this book Poirot gets stranded in the middle of nowhere in a train in the snow, and there's a murder. And it's just great the way the whole thing unravels. Just wonderful.
Three Act Tragedy (Poirot #11) ♦♦♦♦
During a dinner party at a famous stage actor's house, one of the guests, Rev. Babbington suddenly dies after sipping a cocktail. However, no poison is found in the glass. This one was actually quite interesting – Poirot actually believes the first murder to be a natural death and then spends the rest of the book trying to prove himself when a similar death involving some of the same players happens a few months down the line. All in all, I very much enjoyed seeing Poirot being humbled a bit.
Death in the Clouds (Poirot #12) ♦♦♦
Another moving closed room mystery: this time on a plane. While travelling from France to England, Poirot sleeps through a murder full of mystery and misdirects. Again, he works his way through the problem and through each of the characters by putting his little gray cells to use with the help , building up to a big reveal at the end. I again enjoyed this book, but didn't find it nearly as exciting as some of her other ones – maybe I'm just getting a little tired of Poirot.
The ABC Murders (Poirot #13) ♦♦
This book was so dull, it took me a couple of weeks to get through – which is saying something as I've been reading an average of 10 books every month this year. It reminded me The Big Four. Basically Poirot is being taunted by a serial killer who is committing alphabetically-ordered murders months apart. Again, he does not shine in these long-form, drawn-out stories. I was disappointed.
Murder in Mesopotamia (Poirot #14) ♦♦♦
Poirot is back in his worldly travels, this time in Iraq – where he is invited to come and solve the murder of the wife of an archeologist. With the help of the lady's nurse who narrates this adventure, he pieces together the happenings of another closed-room mystery, and it's quite enjoyable.
Cards on the Table (Poirot #15) ♦♦♦♦
Poirot meets a very interesting gentleman at a party, who considers himself a collector of many things. He agrees with Poirot that he will put together an evening with the best criminals in his collection, i.e. murderers who never got caught, and the best sleuths he also collects. An unexpected turn of events leaves Poirot, a police inspector, a mystery writer and a military investigator working together to solve another closed-room murder. This one was really quite exciting.
So that's it – my library does not have Black Coffee available, so I am missing book #7. But all in all I have to say Agatha Christie is the Queen of Mystery for a reason. Some books are great, some are okay, but nothing here is outright terrible or offensive. This is a good time, and I am glad I still a lot of her books to get through.