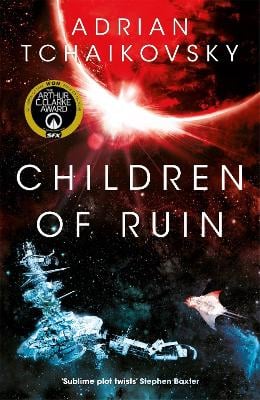 In this sequel, we jump back and forth across time and watch the beginnings of new sentience both planned and unplanned by humans and its inevitable fallout discovered aeons later by the first book's descendents. And true to how things always go awry, nothing is ever what humans (or any sentient species) plan to begin with and that's what saves us in the end. Tchaikovsky will ultimately assure us this inability to be totally in charge of our destiny is a good thing, though no without casualties, gross misunderstandings and the threat of everything going to pieces. But like his prequel Children of Time, Tchaikovsky works Children of Ruin down to the last transmission of cross species understanding in hopes everyone figures it out in the end. It's a nail biter like the first book.
In this one, Humans have teamed up with their buddies the Spiders ( I mean, who ever thought that would be possible) as they both try to reach an understanding with a world first terraformed by Old Empire humans with the Giant Pacific Octopus. The Humans and Spiders both struggle to understand the emotion based communication of the octopodes, who think we're all a dull, stupid lot with blank skin devoid of any indications of intelligence unlike their colour emoting kind. And all three come to terms with another kind of intelligence which threatens us all unless we get our shit together and get along. There is a moment when the reader realises they sympathise with an octopus who wants to nuke it all from space. That's Tchaikovsky's genius though- to make us see our own weakness and flaws in another species and not get it until the very last moment.
I realise now, all the books I've reviewed thus far are non human centric and about how we can overcome our inner bias to achieve an understanding with beings that have desires and values utterly unlike our own. And how we all become bigger for it. Maybe because I'm trying to read my way to a better place my everyday world is struggling with. That what humans want and what we ultimately need might be two different things and that the need is to evolve to a world beyond just ourselves. This is such a necessary lesson our species is coming to terms with right now. That a world without other species not only makes a poorer life for us but ultimately will end us. Writers like Tchaikovsky are vital in imagining our way forward. Ursual K. LeGuin and other writers warned us to begin this work and not stay muddled in books about wars and going over the damage we've done but to think and dream  our way out of this mess. To give hope. This is the highest calling for sci fi and fantasy. NOt the only one, but surely a necessary one.
This book contains some of the scariest scenes of aliens since, well, Alien. But again, Tchaikovsky's aim is not to scare but to create hope. There is a phrase in this book that is also in The Hobbit and trust me, it's not the same as the happy go lucky meaning  as in Tolkien. Bilbo Baggins never intended anything like that.  Nothing in Tachikovsky's books are a throwaway and that phrase contains both the threat and the solution. But only if we will listen to each other. Highly recommend.