How does Bad Blood, John Carreyrou's #1 NYT nonfiction bestseller about Elizabeth Holmes, compare to the music video of "Bad Blood," Taylor Swift's #1 Billboard single about her beef with Katy Perry?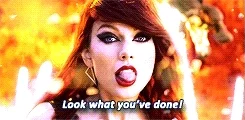 Metric 1: Quality of Prose
John Carreyrou is a functional and effective writer. Though lacks he flourishes or lyricism that would make the prose memorable, he is writing a nonfiction account, and he can effectively convey information as a journalist.
Taylor Swift rhymes 'bad blood' with both 'mad love' and 'deep cut,' which is a stretch even by the standards of pop songs.
Winner: John Carreyrou, by default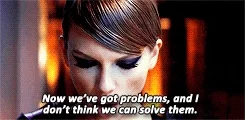 Metric 2: Characters
Throughout Bad Blood, Elizabeth Holmes remains something of a cypher. In some ways it feels like the story isn't about her, it's about what is happening around her. We are privy to other people's impressions of her and can draw our own conclusions based on her actions, but she mostly comes across as a deluded child playing Steve Jobs dress-up, trying to live up to a caricature of the successful Silicon Valley entrepreneur.
Compare this to Taylor Swift, who is always central in her own narrative, and savvy enough to parlay mediocre musical talent to superstardom through Machiavellian marketing strategies. She has made some PR missteps, but Taylor Swift is always the one in control of herself and her brand.
The supporting characters of Bad Blood are a constantly revolving series of names that flit into Theranos's offices, only to depart with tenures shorter than the life expectancy of horny teenagers in a slasher movie. Guest appearances in "Bad Blood," may be equally brief, but the bit players are all quite famous in their own right, and they are portraying members of an organization of super-hot lady assassins.
In Bad Blood, Holmes's main backup is her creepy and borderline-abusive older boyfriend Sunny, whereas in "Bad Blood" Taylor Swift is accompanied by 13-time Grammy winner Kendrick Lamar.
Winner: Circa 2015 #squadgoals Taylor has the better posse by far. TSwift for the win.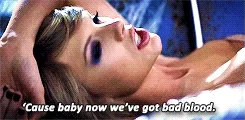 Metric 3: Entertainment Value
The music video for "Bad Blood" is chock full of the aforementioned superhot lady assassins, and it ends with a bunch of explosions. The drama, infighting, and weaponized friendships Taylor Swift cultivates provide their own entertainment value as subtext to the 4-minute music video. And say want you want about the value of Swift's career and the quality of her lyrics, but "Bad Blood" is catchy as hell.
In Bad Blood, it feels like Carreyrou focuses too much on the anecdotes of bit characters. While these interesting as one-off cautionary tales of bad management practices, it failed to pull me into a unified plot. Imagine the song "It's the End of the World as We Know It" by REM, but instead of a taking a break for a catchy chorus, the song just stumbles through an endless series of verses, too fast-paced and monotone to easily distinguish one line from another.
Winner: Taylor Swift*
* The asterisk is due to the length of the respective pieces. If given a choice between listening to Bad Blood's 12-hour audio book, or listening to "Bad Blood" on repeat for 12 hours, Bad Blood would win.
Overall Victory: Taylor Swift.