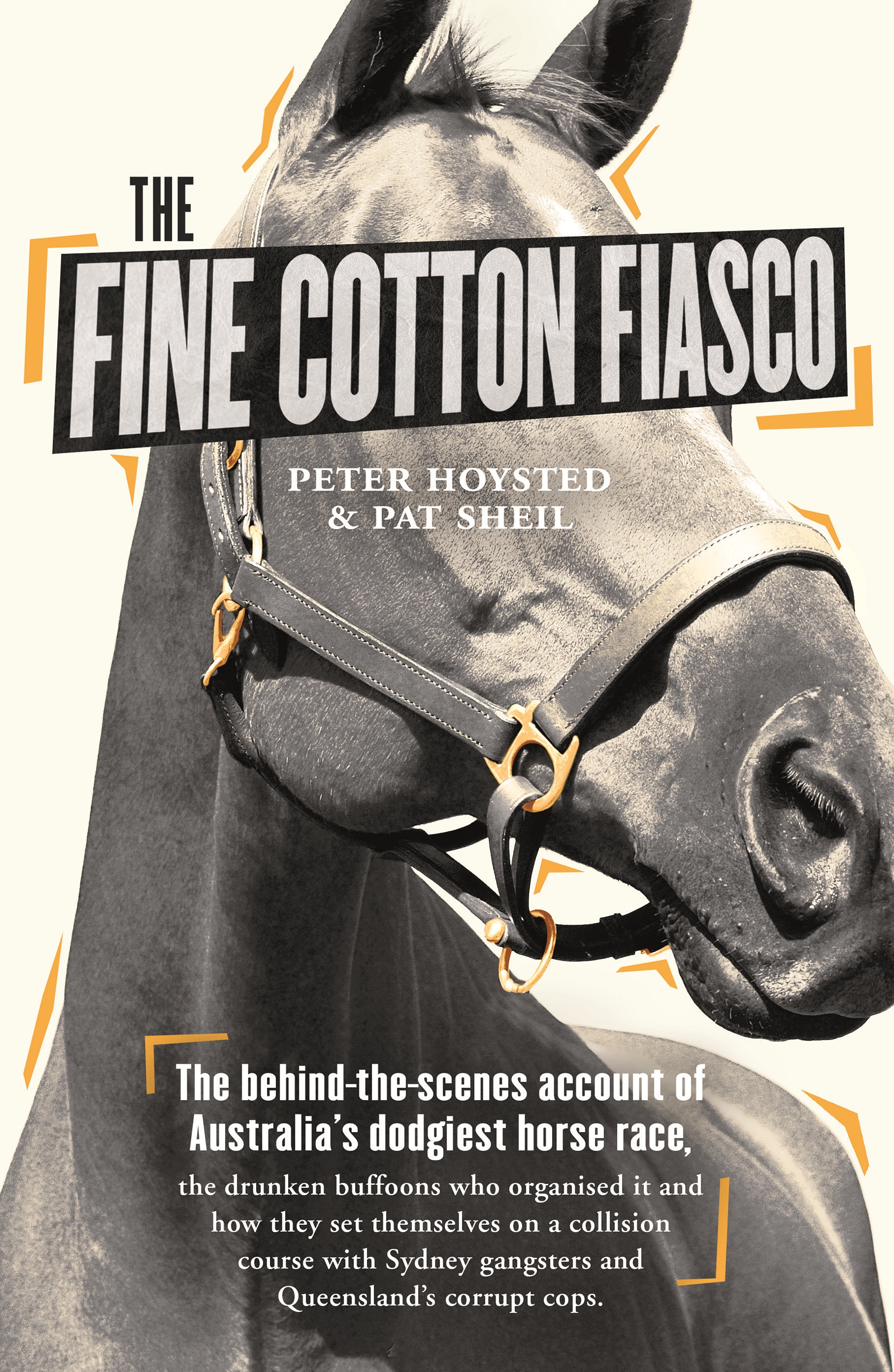 I am not much of a horse person. Far from being the kid who immersed themselves in Pony Club, I never learnt to ride and was possibly even allergic to them until the age of about twelve or thirteen – put me around the horsey stuff, and I would break out in hives. I'm not much of a fan of horse racing either, which is probably to the dismay of some members of my extended family, as they're pretty heavily into it.
There have always been suspect elements common to any enterprise that involves betting. Someone will always try and bend the odds in their favour. Thankfully, I'm so on the periphery when it comes to the racing world that I haven't been exposed to much really; although memorably, I was once drawn into a discussion about centrifuges at the track after someone overheard I was a scientist. This ended with me pointing out that the local racing meet is not exactly the Tour de France, and blood doping in a lot more complicated than spinning some stuff 'round, so don't even think about it*.
So I'm probably not one of the first people to pick up a book on horseracing. But I do listen to a lot of podcasts while at work, and I ended up listening to an interview Richard Fidler (yes, that Richard Fidler) had with newspaper columnist 'Jack the Insider' – AKA Peter Hoysted – and I was in tears by the end of it.
The topic of their discussion was a plot made back in 1984 by a trio of criminals to commit racing fraud. Their idea was to pull a 'ring-in'; a scam where you take a rather undistinguished horse – Fine Cotton, in this case – and secretly swap it out with a well-disguised, better performing horse. Then, after everyone puts all their money on the 'average' horse with the average odds and after the 'suprising' win, they all get a very nice pay-out. The humour of the story comes from two angles – how very badly these people fucked the ring-in up; and how every man and his dog got wind of it, well before the race. The story involved, among other things, a Sydney gangster, a catholic priest, copious amounts of hair dye, a can of spray paint, the Queensland fraud squad, and the police commissioner's mum.
The way 'Jack' told the story, it sounded straight out of a heist movie, and it was hilarious. So when he mentioned that he and Pat Sheil had written a book about it, I put it on preorder.
Like the interview, The Fine Cotton Fiasco is a deeply funny book. But the humour is very different from 'Jack's' verbal re-telling to Richard; far from being jovial, the story presented in the book is instead mined for dark humour. After a bit of consideration, I think this difference in tone for the better, as you can't really explain that fated day at the races without digging into the backstory. And that backstory is quite dark.
Hayden Haitana, Robert North and John Gillespie had originally sketched out a much better plan, which involved a ringer, Dashing Solitaire, that really was a dead-ringer for Fine Cotton. The two could have been twins. But due to some carelessness, Solitaire ended up in no condition to be raced. Rather than throw it in, the three went ahead with a third horse, Bold Personality.
Who resemblance to Fine Cotton was less that of a twin and more that of a distant cousin. They were both horses, at least. And they both had four legs?
The trio didn't heigh-ho ahead with their bat-shit scheme to dye and paint a horse just because they were greedy and stupid – although there's no denying that they were both of those things. But we also have to remember that fear is a great motivator, and two of these three at least were also scared of certain criminal elements. Not so much Gillespie though, who was very likely a sociopath. Instead, he was the one feeding Haitana stories of a hitman named 'Rentakill' and the brutal (true) murder of a horse trainer who refused to switch his horse out for a ringer. This alone probably provided enough motivation for everyone to keep in line.
It's also not a cute coincidence that half the Queensland fraud squad was having a flutter on the horses that day – this was Joh Bjelke-Petersen's Queensland after all, and there's no doubt they were all working off insider tip-offs. If you're not familiar with Sir Joh's tenure as Premier, have fun, as this will be a bit of an eye-opener. Bookkeeping titans, Bill Waterhouse and his son Robbie were also privy to inside information, which is how a priest like Father Ted O'Dwyer managed to get himself embroiled in the scandal; along with several others, he was caught placing a huge bet on their behalf. This would later come to bite the Waterhouses on the arse, and the racing world as a whole was didn't end up feeling very sorry for them.
The authors paint most of the people involved in this affair in a rather sleazy, unflattering light, and I can't fault them there – we sometimes over-romanticise Australia's stupid criminal class, and they really don't deserve it. But as cringe-worthy as some of the voices assigned to the main players are, they do come across as authentic – it's good to be reminded that these are deeply unpleasant men doing unpleasant things.
And, thankfully, for every wincing reference to someone's seedy hangover or exposed arse-crack, there are some rather great (and very Australian) turns of phrase:
Big Russ knew the committee couldn't find their own arses with a sextant and a well-thumbed copy of Gray's Anatomy. That was just fine by him.
I was also fond of this one because this is a line I'd only ever heard my father use:
At this point, Robbie was in more shit than a Werribee duck.
And this gem:
…if the Fine Cotton ring-in was ostensibly such an easy thing to (almost) pull off, was the racing industry, at least in Queensland, so poorly regulated that any clown with a glint of criminality could drive a Leopard tank onto a racecourse, call it Phar Lap's great-grandson, and drive off with the cash and prizes?
I'm curious though –  how well known is Phar Lap outside Australia and New Zealand? Does he have any name recognition at all?
The latter quote also brings up a valid point: if it took a case this stupid to get everyone investigated, exactly what else were these people getting away with?
The main trio did end up in jail for what it's worth, but their sentences were hardly much of anything. Robbie Waterhouse got himself suspended, but that didn't exactly last forever. One side player did end up getting murdered, but otherwise, people didn't face much in the way of punishment. Thankfully though, all three of the horses who got dragged into this sordid affair ended up living out much happier lives afterwards.
While I'm giving the book four stars here, it does sort of sit more of a three and a half with me. This is not so much the fault of the authors, but I do feel a little angry about the aftermath. Also, I brought the subject up with my dad on the phone and was then subject to an angry, expletive ridden rant about the Waterhouses.
Great fun, that.
Ended up holding my mobile about a foot from my bloody ear for that one.
So for bingo, this is going under Not My Wheelhouse.
I will reiterate, I am not a horsey person.
*(And yes, I would dob in all parties involved if I ever got wind of anyone trying it. But due to the difficulty of such a thing, and how small-time these meets are, I'm certain everything brought up that evening remained hypothetical.)