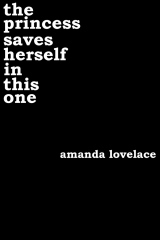 I haven't read a book of poetry in a long time, and this was a perfect way to get back into it. I used to love writing and reading poetry, especially in high school. I was even published once, in our lit mag. This is the type of poetry I have always loved, and I wish Amanda Lovelace had come into my life sooner.
This slight and powerful book of poetry is based on Amanda's life and while simply written, contains such multitudes of feeling that you feel you've gone on a journey with her through her whole life by its conclusion. She bares her soul through her words, bleeding ink onto paper, framing it lightly but effectively with a fairy tale princess formula turned on its head.
She reminds me of e.e. cummings in all the best ways. I wrote a term paper on cummings in my youth, and her manipulation of structure on the page was beautifully reminiscent of the way he worked as well.
This is the kind of poetry that stays with you. I would linger on a page after reading a piece and just take it in. The simplest poem, one that is only a single line, left me sitting there, staring at the mostly blank page, for a solid 5 minutes. These are the words you want to revisit when they will reach you the most, words you want tattooed on your skin the way they are in your memory and in your heart.
This is a book I'm thrilled to own and expect to read over and over again, and cannot recommend highly enough.
CW: There is a list of warnings at the top of the book, and every one of them is for a reason. They are all beautifully and powerfully addressed in the poetry, but please practice good self care when approaching this book.