"The terror, which would not end for another twenty-eight years — if it ever did end — began, so far as I know or can tell, with a boat made from a sheet of newspaper floating down a gutter swollen with rain."* And then the murders began.
There's a meme going around Facebook where you add "then the murders began" to the opening line of a famous story. Stephen King's It doesn't really change much when you add that line, because, you see, that is when the murders began.
Spoiler alert for It and some for the climax to Under the Dome, this is not a review of Under the Dome, more of a comparison between the books. Clown gifs ahoy!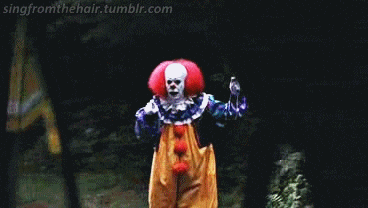 It, as most people know, is probably THE book/miniseries that is responsible for 90% of the cases of clown phobia in the world. It features Pennywise the clown, a creature that takes on many forms throughout the centuries in the small town of Derry, Maine, killing children (and some adults) and generally being a pain in the ass.
In the summer of 1958 the murder cycle began in earnest again with the murder of George Denbrough, a sweet little six year old boy who just wanted to float his boat down the flooded streets. It ended rather violently and rather surreally in 1985 with George's older brother Bill literally squishing It's heart between his hands.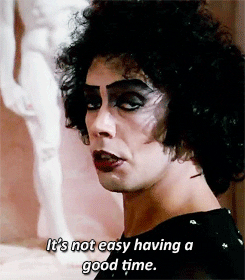 Seven children were gathered together in the summer of 1958 by the Other, a force of Good, to finally stop the evil It. The Losers gravely wound It and cause It to retreat until 1985.
The book is told in a rather unique melding of present day 1985 and flashbacks to 1958. Frequently the chapter would start out with the adult character telling a story, and then mid sentence going back in time to 1958. The blending of past and present was well crafted. The shifting POV between the characters was also well done, I wish he'd chosen another set of names for Bill and Ben, because I did have a tiny bit of difficulty keeping the two of them seperate, especially towards the end.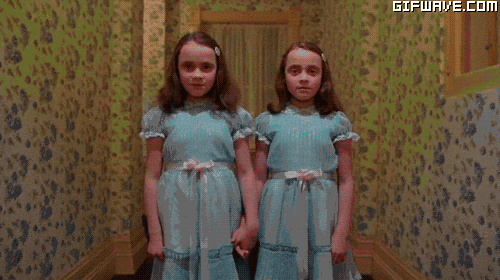 Who's who?
That's my own hangup though, and I doubt a lot of people had the same problem. King was very good at developing unique characters, Bill with his stutter, Ben with his instinctive knowledge of How Things Work. I felt that Bev was a little light on character development, like she was only there so there'd be a girl they could have sex with at the end of the wounding of It (seriously, WTF?). I know she shot It in the house, but it didn't feel like enough to me to justify an entire character.
King was also good at describing the mental instability that comes with being mentally ill. I suffer from mental illness, but not nearly to the extent of Henry Bowers (THANK GOD), and I know it's hard to capture that feeling of instability when things are Wrong. I felt King did a good job, I don't know his medical history, but if he doesn't suffer from mental illness (more than it takes to be a writer anyway) then he's got a good understanding of what it's like.
Now, for the comparison to Under the Dome I promised. In Under the Dome, the dome was created by aliens, alien children is what we're lead to believe. Doing what children would do with ants and a magnifying glass.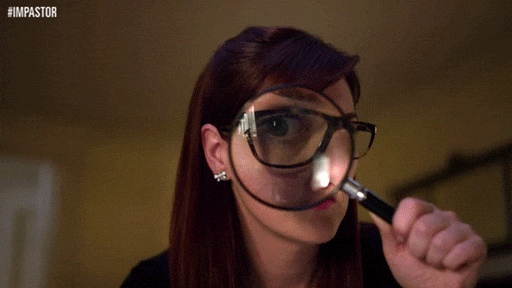 I see you little ants!
At the time I read Under the Dome, I felt that the aliens were a bit of a cop out. Like he'd written himself into a corner, couldn't figure out how to get out, and thought "ALIENS! I'll just say aliens did it, that'll be perfect." — it felt … forced to me, and kind of lame. I would have prefered the dome come from anything other than aliens, to be honest, because the greatest horror is what humans do to other humans.
It comes from Beyond, you have a vision scene when you see It crashland from space/wherever It came from. Unlike in Under the Dome, It comeing from Beyond feels natural. It feels right. Maybe it's because It spends a large portion of the book alluding to the idea of magic and evil, and Under the Dome lended itself more to technological problems. I don't know. I'll be interested to hear your thoughts on this comparison, I will admit that Under the Dome was my very first King book, so it's possible that I didn't know what to expect.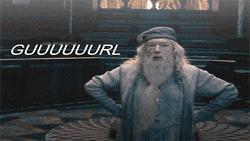 Wrong magic. Go back to Hogwarts, Dumbledore.
In conclusion, I thought that It was well done and that it deserves it's place among the masterpieces of modern horror. It was creepy, fast paced, long, and well crafted. Everything I'm looking for in a book. I will return to Derry again and again.
The quote at the beginning of the post is the first line from It, by Stephen King.