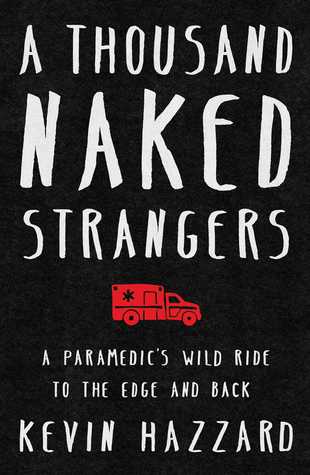 "So what's the worst thing you've ever seen?"
After a decade spent as a paramedic, it's a question Kevin Hazzard loves to hate. Which stories should he tell? Should he talk about the gunshots, the cardiac arrests, the overdoses, the man swarming with maggots? Or should he lighten the mood and talk about the fake suicide attempts and the surprising amount of nudity? Either way, he knows that people will be listening. Because the dirty secret is we're all rubberneckers, slowing down to stare at a car accident, watching "funny" videos featuring mentally ill strangers. We all feel that voyeuristic pull that makes A Thousand Naked Strangers such a compelling read.
In the aftermath of 9/11, Hazzard decided there was something missing in his life. The former salesman and reporter wanted to push himself, to see how he would respond to chaos and danger. He signed himself up for emergency training and became an EMT-not that that class prepared him for what was going to happen. Instead he learned on the fly, and slowly became damn good at what he did. He wasn't in the business for altruistic reasons. He liked the camaraderie he felt with the other people in the ambulance, and loved the adrenaline rush that came with close calls.
He talks about the crazy shit he's ever witnessed (and there is somecraaaaaaazy shit) but never loses sight of the fact that he's often dealing with people on the worst days of their lives. "EMS is the greatest show I've ever seen, except it's not a show. It's all real." That acknowledgement keeps the book from being too mean-spirited.
Eventually, Hazzard left the business. He'd felt himself getting burnt out, but the final straw came after a shooting call. When he got home, he realized there was something stuck in his boot. He thought it was a pebble. It was a skull fragment. Hazzard showed it to his wife and laughed about it. The expression on her face let him know that there's a normal reaction to finding a piece of human skull and that wasn't it. Around that same time, he responded to a call where a woman caught her mother in bed with her husband and beat the ever-loving shit out of her. She was really badly injured and Hazzard remembered yawning. His cavalier reaction made him realize it was time to go.
I really liked this book. It's a fast read about a life I know nothing about. Hazzard writes like the reader is his buddy. I felt like the two of us were drinking beers on a porch while he was telling me about the crazy stuff he used to see. A Thousand Naked Strangers is a wild, darkly funny and gory ride.