Thanks to NetGalley and MacMillan Audio for the ARC. It hasn't affected the content of my review.
I'm as surprised as anyone that I didn't really like this. It wasn't a bad read, and there were parts I really liked, but a large part of this book just felt extremely frustrating to me, rather than the intriguing and unsettling the author was going for (I think).
Stay Awake kicks off with our MC, Liv, waking up in a taxi with no memory of how she got there, and upon directing the cab to her apartment, finds that two strangers are living there. She also finds a bloody knife in her pocket, and cryptic phrases are written all over her hands and arms, saying things like STAY AWAKE, DON'T GO TO SLEEP, YOU FORGET WHEN YOU SLEEP. It soon becomes apparent to the reader that she is suffering from memory problems, as every time she sleeps her memory resets to an afternoon in July when she accepted a phone call at work two and a half years before. As she's wandering around NYC, trying to figure out her life, she notices on the news (multiple times across the book) that a man has been murdered at a short-term rental, and someone has painted on the walls in his blood, "STAY AWAKE." Huh, wonder what could have happened there.
The other POV character is Detective Darcy Halliday, as she and her partner work to solve the murder of the man in the short-term rental, which eventually spirals into them investigating Liv, and trying to both find her physically and find out how she is connected to the case. The narrative is split between them about 70/30, with Liv (unfortunately) getting the lion's share of the POV. Liv's POV itself is split into the present day narrative, where she is wandering around NYC without a memory, and the past two and a half years leading up to the present day, where we find out what's been happening to her.
I was just endlessly frustrated with Liv. I know that not sleeping is really, really bad for you, and can compromise a lot of things, not least of which is your thinking and processing capabilities, but Liv throughout this book continues to make all the wrong decisions, do the same things over and over again (some of this can't be helped, of course, because she doesn't remember), and be the slowest person in the room to connect the dots. Every time her memory resets it takes her FOREVER to realize that the problem is with her and not with the world around her. Maybe I'm an asshole, but I hated having to listen to her doing this for most of the book. I felt it was agonizing, and not in a good way. Half of the book I feel like I spent yelling OH COME ON at my phone.
The ending was pretty good, though, even if I did almost completely figure out what was going on about halfway through the book. I think in the end that this just wasn't the book for me. I didn't find it nearly as emotionally compelling as her last book, The Night Swim, and now I'm worried about the copy of The Escape Room that I have waiting for me.
As for the audio itself, the dual narrators were pretty good. You have to listen on at at least 1.2x speed though, because Imogen Church (I think she's the one that does Liv's chapters) speaks like the audiobook narrator equivalent of the sloths in Zootopia.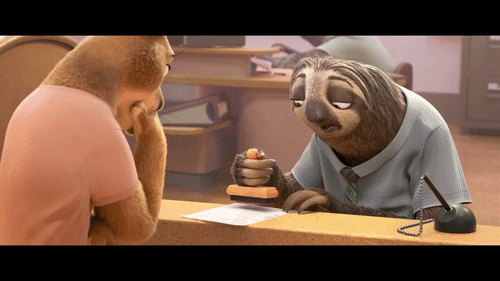 January LaVoy was pretty good. She does the chapters narrated by Detective Halliday. If you're an audiobook reader, you'll be fine here, but I think it might have played better for me in hard copy so I could read through it faster and the frustrating parts didn't drag on on forever.
[2.5 stars, rounded up because the last third was pretty good for me]
Chipping Away at Mt. TBR, July 2022—Book 7/31