So I gave this one 3.5 stars and rounded it up to 4 stars. I have to say once the book just moved straight to Shep and Claudia having hot sexy times it got a lot better. I think Weatherspoon was trying to do a romantic suspense book and the suspense part did not work for me at all. There were so many holes in that whole plot, and anytime one of the characters referenced it I would go, oh yeah, random serial killer? What? And then moved on. But if you want a solid BDSM book, this is definitely a great read.
"Haven" follows Shep Oleson who is a nature photographer (and I think doing something with the forestry services?? Or was that the same job???) who returns to his mountainside home after a week away seeing to his needs. We quickly find out that Shep is a dominant and after his last disastrous relationship, he just keeps himself away from women. When someone comes to his door asking for help and covered in blood, Shep quickly realizes the woman is in danger. Shep protects the woman, shoots the man who was pursuing her, and quickly starts to feel something for the woman who he finds out is named Claudia. With Claudia left reeling from a loss during her pursuit and left with PTSD from the entire incident, she can't stop thinking about Shep. And then she returns because she feels like he is the only one that can give her what she needs.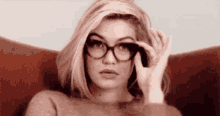 The book focuses on Claudia and Shep and Weatherspoon goes back and forth throughout the book giving you Claudia and Shep's perspectives. I honestly loved both characters and I was dying for them to make things work. Outside of the hot hot hot love scenes, Weatherspoon gives you a great sense of these characters, and the side ones as well. The biggest thing I grappled with was the whole random murder plot with no explanation. I am just going to live it alone because if I start trying to take it apart I am going to get even more confused.
The flow was great too, the book moves and Weatherspoon does a great job of giving you a sense of how much time has past. Which frankly I loved. I would have had a harder time with some things in this one if everything progressed in like two weeks. Though I will admit the initial conversations regarding sex, what Shep was into, and what Claudia wanted didn't gel right away. I felt like I plopped into a conversation that just happened out of nowhere. I wish it had been written a bit more organically.
The setting of a mountain town in California was great. You could feel the isolation at times, but also got a great sense of how beautiful and small things were.
The ending was great and we get a Happily Ever After (HEA).