Well this made me cry at the end. I so wanted a different ending. Which to me is often a sign of a very good book. You hope for a different outcome even though you know it's not possible.
"Burial Rites" is a historical fiction novel based on true events. We follow the final days of a young woman named Agnes Magnúsdóttir, found guilty of murder and sentenced to be beheaded in Iceland in 1829. The book follows many characters and you get most of them via third person point of view. At times though, Agnes tells us her story via first person. The other characters points of view we get are Toti, a priest that Agnes has selected to be her final spiritual advisor, Margrét Jónsdóttir, the district officer's wife who is forced to house Agnes until her execution, along with her two daughters, Steina Jónsdóttir and Lauga Jónsdóttir.
At first I felt as Margrét did about Agnes, someone being a murder of two men and I instantly went to eh what is the mystery element about this case. But as we dive deeper we realize that not all things are what they seem with regards to Agnes. And you get to see a different side to Agnes, a side that could have been a friend to Margrét and to others, if she only got a chance and had not followed after Natan. I think that my opinions about Steina and Lauga changed throughout the book. At first, I was annoyed by Steina. But then I got annoyed about Lauga. There seems to be something deeper going on between the sisters, and I really wish the epilogue had shown us what happened to the Jónsdóttir family. I think we can guess about Margrét just based on one of the last conversations that she had with Agnes. I really also enjoyed the priest Toti who at first is repelled by Agnes, but then realizes that he is there to just hear her story. And as Agnes tells him more about herself in the dark winter hours before her execution, you realize this may have been the first time anyone ever heard her.
The writing I thought was great. I was fascinated about Iceland and how the homes were set up. I started to Google words such as badstofa. I ended up looking up what it was and saw it looked like this: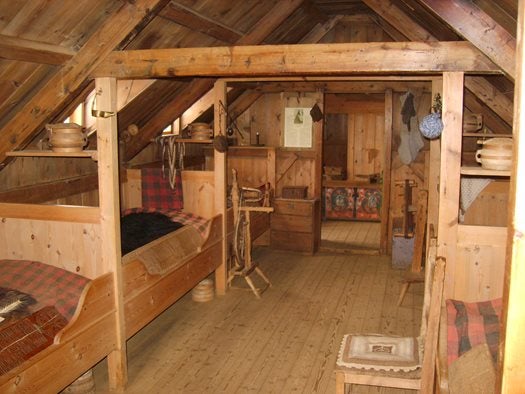 You can see more pictures that author Hannah Kent took on her trip to Iceland, here, https://www.panmacmillan.com/blogs/literary/burial-rites-iceland-photos-hannah-kent-setting
I have to say though that at times the book tends to move a bit slow. I think it's because you follow Agnes in her long tale of how she came to be hired by Natan Ketilsson. Agnes life was one long tale of being left and feeling unloved. Her moving to work as what she thought was going to be a housekeeper and maybe eventual wife to Natan was so sad to read. I just kept wanting to say, wake up Agnes.
The setting of the book in Iceland in the 1830s was so interesting. I wanted to read more and more about the people we get to know through Kent's book. I also really like how Kent incorporated actual letters and other documents she found via her research into the book. It just makes the characters come more alive I thought.
The ending was gut-wrenching.