I have kept up with the fanfic habit I gained in 2020, although I have slowed down a bit, partly because my ability to focus on traditionally published books has increased, and partly because I have not been keeping up with one of the television shows that fed most of my 2020 consumption. But one of the wonderful things about fanfic is there is so bloody much of it that whatever small thought might be scratching at the back of your mind, or story thread you would love to see explored a bit further, it exists for you to find.
One of those story threads that jumped out to me earlier this year is the Sam and Bucky of it all at the end of Falcon and the Winter Soldier on Disney+. Of the shows, it is my least favorite live action (I have major problems with What If that drop it right down to the very bottom of my personal rankings), but Sebastian Stan and Anthony Mackie have such good chemistry and at the end of the series I wanted more of that pairing being soft and fluffy together. So off to AO3 I went. I found what I was looking for by the truckload, and one of those is the ongoing series Questionable Communication Skills which takes a slightly skewed version of the characters we have seen on the show and movies (and one can only assume comics) and shows the ways these two characters can screw up basic communication, because feelings are hard.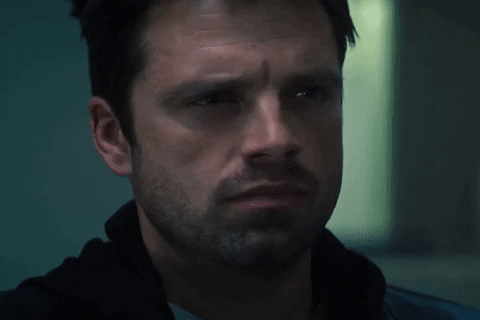 It's grown over time, first arriving in late April 2021 as a place for the author to play around with some of the events we see in the show and all the side characters we see (and a few of their own creations) being nosy, gossipy shippers (like the rest of us). In the months that followed we have been treated to a full rundown of the pair working on their communication (119 posts worth so far as of this review), dealing with the public, getting together, Bucky getting a bestie who is also a newspaper reporter (she is great), the spider kids get involved… there is a lot happening. It is told in quick bursts, often posts are just a couple hundred characters long and are formatted to look like text messages or Instagram posts. Abhorsenbranwen also weaves in tons of easter eggs, New York, and Brooklyn specific history, and has been highly active in taking suggestions from the readership in how they progress the story, but also doing a commendable job not letting themselves be derailed, just sent down fun side paths. They've been playing around with established characters and spaces and giving us their own view, their own original characters, and at the end of the day a bit of fun.
I started early on, within the first few posts, and it could be confusing at times since the individual works were not posted in chronological order. If you read now the posts have month and year headers to let you know where you are in the timeline, but it does still bounce around quite a bit. I've enjoyed this series a lot, and for many months waiting for the regular subscription alerts provided a much-needed endorphin hit – it turns out I do enjoy a bit of serialized fiction. I can't say when or if more of this series is coming, odds are yes since abhorsenbranwen has indicated where their story is headed next in the notes of the latest post, but its from over a month ago.
As of December 18, 2021, Questionable Communication Skills has 119 works and is 125,621 words.