I'm still working my way through Kresley Cole's Immortals After Dark series. I've read her several of her books for previous Cannonball Read challenges. The author finds a way to pair up the most interesting supernatural creatures. Many of her books deal with fated mates, but often the alpha male attempts to use fate as an excuse to skip courtship. The female rarely finds this acceptable and a sexy and dangerous chase typically ensues.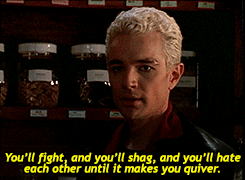 For CBR11, I decided to start at the very beginning with the novella, The Warlord Wants Forever. I previously missed this entry as it was part of an anthology. It was then re-released in 2011. I try not to be a series order purist, but it is nice to see how authors lay the foundation of their series. Nikolai Wroth comes across Myst the Coveted while she is held prisoner in an evil vampire's castle. Nikolai is a Forebearer vampire, who has sworn to never drink human blood. He's lived without a heartbeat or desire for much of anything except revenge. After kissing Myst, his heart begins to beat and a powerful need to claim her erupts. He doesn't know Myst is a valkyrie. He's taken aback when her violently feisty sisters come to her rescue. Myst is oddly attracted to the vampire, even though valkyries have declared war on them. Her sisters use Myst like a honey trap to kill as many bloodsuckers as possible. Fortunate for Nikolai, she convinces her his sisters to spare him. They leave him chained to a wall without his lust for Myst satiated. It takes some years, but he tracks Myst back to her home in New Orleans. He kidnaps her back his castle, which I have to say isn't the smartest way to win over a woman. With the switching POV, we see the sparks fly! Myst wants to use her femme fatale charm to escape, but her body has other ideas.  They struggle with being from two different worlds, a common theme in these books. I never tire of learning exactly how the lovers overcome their obstacles. Being immortal means these two are quite set in their ways. Not to mention the bloody history between their species.
On to book four, Wicked Deeds on a Winter's Night, where the main character is the lykae (aka werewolf) Bowen MacRieve. He is the cousin to Lachlain who was introduced in A Hunger Like No Other. Bowen crosses paths with Mariketa the Awaited, a mysterious and beautiful witch shrouded in magic. They both have joined a supernatural scavenger hunt called The Hie. The very same one from No Rest for the Wicked. The book starts mid-race in a dark and dangerous tomb in Guatemala seeking an ancient headdress. Despite being competitors and bickering in the dark, they share a passionate kiss. Bowen only slightly resists because he doesn't want to be unfaithful to the memory of his dead mate, Mara.  If he wins the hunt, he plans to bring her back from the dead. Mariketa is barely in her twenties and destined to be one of the most powerful witches ever. She entered the Hie to prove herself to her coven. Their bodies want each other, but the werewolf's mind won't give in. He believes this wicked witch has bespelled him. Things get out of control and literal curses are thrown. Bowen leaves her behind but reluctantly returns to rescue Mariketa so she can remove the curse. Along the way, he confronts the possibility that maybe Mara wasn't his mate after all. Mariketa must come to terms with magic while her feelings for this hot head lykae spiral out of control. Besides their personal turmoil, they have to make it back to civilization through a jungle civil war. They can't dilly dally lest more supernatural chaos erupts back in New Orleans.
I've yet to be disappointed with a Kresley Cole book. The racy encounters between the characters are always a delight. It's nice to see side characters return like wacky Nix, the soothsaying Valkyrie. You never quite know what she's up to in these stories. I appreciate how the world continues to evolve with the newly introduced witch contingent via Mariketa. And who doesn't like a broody Highlander love interest? We finally learn why Bowen was such a scowl machine in previous books.
This is a great series for anyone who loves the Enemies to Lovers trope and fans of Katie MacAlister's Dark One's novels.
Artist Credit: Débora Cabral