Rosemary and Rue is the first book in the October Daye series by Seanan McGuire. I've been meaning to read this forever. I'm a big fan of detective mysteries and urban fantasy. I'm very happy to review it for the And So It Begins CBR11 bingo square.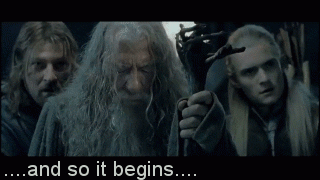 October Daye, Toby for short, is a changeling and a knight errant to the Duke of Shadowed Hills. In this universe, the Fae are hidden to humans and live amongst them in secret. Toby's mother is a powerful Fae who has retreated to the Summerlands when Toby accepted her supernatural heritage.
"Q: What is the Changeling's Choice?
A: Changelings are given a choice between the fae and mortal worlds by their fae parents once they have reached a certain age (this age is different for everyone, but is normally between the ages of six and thirteen). Changelings who choose "fae" are immediately taken to the Summerlands to begin their education. Changelings who choose "human" are killed."
Source: Seanan McQuire's FAQ
The book begins with Toby tracking the Duke's brother who they believed kidnapped the Duke's family. Before she could gain any clues, her mark curses her to be koi fish in the botanical gardens for 14 years. During her lost time, her daughter grows up without a mother thinking she died. When the spell wears off, Toby decides to avoid the Fae world and everyone from her former life. But she can't escape them forever. One night after her boring grocery store night shift, Toby takes a doomed call from the fae Countess Evening Winterrose. With her dying words, Evening unleashes a death curse for Toby to catch her murderer or die trying. Talk about a dangerous case to get her back on the job again. Evening helped Toby find her footing in the city during her adult years.  She'd probably have solved the case without all the cursing drama. The case forces her to ring up her old contacts, including the Duke and a rugged ex-flame.
I really enjoyed this urban fantasy and excited to read the next 12 books! The world-building was filled with humor coming from Toby's POV. We learn about the hidden Fae world through the people she encounters. I especially liked Tybalt the Cat Sidhe who is more a frenemy than a friend to Toby. He knows exactly how to push her buttons as most real cats do. I was a bit confused about why Toby refused so fiercely to reconnect with her daughter. I suppose it makes her a more interesting character and part of her reconciliation with her old life. I highly recommend this series to fans of The Hollows or Kate Daniels series. Less romance, more fantasy, but similar paranormal detective vibes.
Read more of my writing on my blog, Confessions of a Pop Culture Addict.