Jen and I read Erin Gibson's fantastic book for the Two Heads Are Better Than One bingo square.
Teresa: I've been a big fan of Erin Gibson from her podcast, Throwing Shade. I also attended her LA Festival of Books panel where she promoted this book. I was delighted beyond measure and regret holding off on a signed book. The audiobook version though was such a fun ride. Part feminist history, part humorous memoir, this book is a great way to discuss the darkest timeline of Trump. So excited that Jen was on board with my suggestion to review together.
Jen: I am horrible at podcasts – I try to be one of those people that utilize their time well and listens to things like audiobooks or podcasts while on the elliptical or while driving but instead, I end up listening to rock and top 40 hits of the early aughts over and over again.  I'm so glad Teresa volunteered to do a joint review with me of her most recent read because I definitely would not have discovered it on my own. 
Feminasty is hilarious and we both highly recommend it! Erin goes all-in on the patriarchy with a giant dose of history and humor. Please enjoy our chat review!
teresaelectro: So you didn't know who Erin was at all?
Jen K: No, I don't pay much attention to podcasts at all.  The only reason I even knew about A Cast of Kings was the JoRo/Pajiba connection!
Every time I try to get into them, I'll listen to one or two and then forget to get back into them or realize I downloaded ones about topics I already have more than a passing awareness of, thus defeating the purpose.
But speaking of audio formats, I did want to ask how did the audiobook handle all the footnotes?
teresaelectro: I know about a ton, but I have zero time to listen to a full season.
I only heard her quoting them, no actual "footnote" call out. Maybe it was at the end, but I listened to the acknowledgments and nothing.
It was cool to learn she was an actual new writer/researcher. And I didn't know she produced stuff for Funny or Die.
Her podcast host partner is on Gay of Thrones with Jonathan Ness a bunch. They cross-promote stuff, which now makes so much sense.
Jen K: There were a few at the end of each chapter but it was more the jokey asides, like explaining that she is a third-generation Irish street rat.
It was interesting to see how much she has participated in things that I have seen like Funny or Die and a few episodes of Gay of Thrones. (See a common theme here?)
teresaelectro: Yeah, they mixed it into the chapter. She talked about that at her LA book fest panel. Most of her family didn't like to be called that lol. I went to a live taping of Throwing Shade at an Entertainment Weekly festival. My first real intro to them, and they had been on for years. It was to celebrate their tv version…which fizzled and died.
Jen K: Speaking of family, I know one of the potential topics you had mentioned was her personal life. She dropped just enough hints about her personal life and background that I would definitely be into a normal memoir from her.
teresaelectro: tbh, those were my favorite parts
I didn't realize she went to my school district. Like I could have been drunk at Numbers at the same time.
Jen K: Mine too! I had to remind myself that the subtitle was "a guide," not "a memoir" because I wanted more!
teresaelectro: Also, she looks so FABULOUS on the cover. I was like, I need all this in my life.
Jen K: Her whole poverty to producer/researcher/podcaster story would be fascinating.
teresaelectro: Definitely. I think she could provide a lot of advice.
Jen K: Yes! And her "About the Author" page picture, too. "Wait, I thought you said you were awkward in middle and high school."
teresaelectro: Everyone who ended up in podcasting has an interesting tale
Jen K: It's so easy to make jokes about a podcast being a group of bored hipster white guys, but then the people that are good at have much more interesting stories!
teresaelectro: They have to be able to be random, but engaging. A fully lived life is good for that (or be very researched like with true crime stuff)
Jen K: And she definitely delivered on both ends!
teresaelectro: Did you feel like her "facts" and research were enough?
I had to take breaks from reading sometimes because the sheer amount of laws passed to prevent women from things was depressing af
Jen K: I think there were a few essays that left me wanting more, but I think every single topic she addressed could fill books on its own so a short essay could only do so much.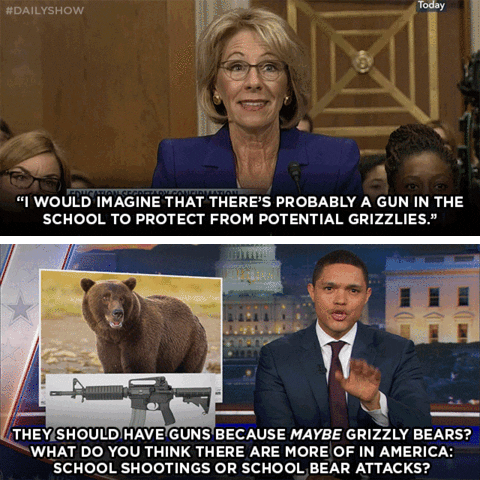 teresaelectro: Her letter to Betsy was sooooo funny, but totally not that much of a parody
Jen K: Overall, going back to the "guide" idea – it was a nice reminder of "here is some shit that is going on all in one spot" to really remind everyone of what's going on.
teresaelectro: Like these women play themselves with their awfuluness
Yeah, it was like "LISTEN UP, I AM SPILLING THE HISTORY"
Jen K: It's like when SNL basically just used transcripts of every time Palin spoke
teresaelectro: I didn't know that, but it sounds hilarious
Jen K: I'm probably exaggerating, but this is the woman who said she could see Russia from her house, and asked for examples of magazines … how do you top the things they are actually saying?
teresaelectro: There's no way because they live in an absurd bubble
Jen K: Yes.  I like that Gibson even had a chapter devoted to the women working against women. Of course, she barely scratched the surface!
teresaelectro: I liked Erin's humor, but my roommate felt she was too theatrical when on Lovett or Leave It. Did you find her abrasive? Or right on the money? I loved it all. These times call for Nasty Women shouting and calling out hypocritical women.
Jen K: I didn't find her abrasive – I like to think of myself as rather open, but I also have moments of prudishness so sometimes I'm a bit surprised when people overshare sexual details, like the guy she brought back to the airbnb, but I honestly felt like she did a good job of balancing the humor and anger.  In fact, I wouldn't have minded a few more angry diatribes!
(And I wonder why the people I worked with in Kuwait kept telling me to calm down :p)
teresaelectro: The doctor part was horrifying because so true. I never used conditioner, but I've heard some tales.
Jen K: I actually highlighted her work out descriptions – "kettlebell kickboxing, yoga for murderers, pilates 'n' punchin' " – I would totally sign up for those.
teresaelectro: A guy I slept with (and regretted) did use protection after my insistence but was mad the whole time we did it. WTF.
Jen K: That's bullshit! Yeah, I have always been assigned doctors so the last two years were the first time I had to find my own, and I can see how easy it is to stick with someone you don't love because they already have the files …
teresaelectro: And the IUD thing is awful, like absolutely not. I think this is why I never had a male gyno. To much room for shenanigans. Altho I'm sure they're bad female ones too.
yeah, it's just once a year of annoyance.
Jen K: Yeah, I've had both. My least favorite one has been a woman but it's because she was too grandmotherly and I felt like she was judging the number of partners I'd had – and this was after not having had sex for like six months. The Army one I had for my last pap was female and amazing!
teresaelectro: I felt like this is a good book to read or listen to. Do you agree? She's a hilarious performer, but an excellent writer too.
Jen K: I think it works for both, but I could see where it might be slightly more suitable for listening – as I mentioned above, while reading, I often ended up wanting more from each essay, but I can see where even more detail would have gotten tedious in audio format.
I guess it might also depend on familiarity with each topic. I think I had at least a passing knowledge of most of the topics she chose – I actually appreciated that she was able to focus on just adult women being called out on dress code stupidity since we see so many articles all the time already about what happens in schools.
teresaelectro: That's true. I did know about the Megan Kelly thing. But it was good to give it context. Are you tempted to listen to the podcast now? I wish I had more hours in my day. Too many books, albums, film/tv to consume lol.
Jen K: As much as I am ever tempted to listen to a podcast – meaning it might end up on the app until I run out of storage on my phone and delete everything! I do have to drive somewhere mid-month and over Labor Day so there is still hope though!
teresaelectro: Yeah, I don't really listen to them at home. Always in transit. My roommate is religious with working out and listening to podcasts.
Jen K: I have never joined a real gym (I used to use the free ones on post) so I gravitate more towards the studio classes when home so not much opportunity then. But even so, I can't listen to someone talk while running.
You know, one thing that amazes me is how different things are now vs. when I went to junior high and high school. We had the abstinence only speaker come to health class and compare us to gum but we also had regular sex ed about condoms. It always amazes me reading about how we had multiple years where students were literally only taught disinformation.
teresaelectro: Oh I can attest, I got the dumb Christian version during FCA. Then, the state-appointed genital-based health class talk in 8th grade and the semester in hs. They basically told me that you can use condoms but they are only 30% effective. With all the teen pregnancies around me, I picked abstinence to ensure I could get the fuck out of town.
Jen K: Wow.
teresaelectro: Straight ass lies.
I only went to FCA to put it on my college application to look "well rounded"
That was in Bryan/College Station. In Houston, it was a teeny bit better.
Jen K: Helps that I was in Europe K-7th grade. I got to the US and they started talking about saving oneself for marriage, and I'm just like, say what? No, I'm going to lose my virginity at 17 (narrator: she did not. No one wanted it.)
teresaelectro: Same, I had to work hard in college for it. At the book panel, she talked about how she was an uber slut with her husband there. She was like – "he knows!"
Jen K: I definitely made horrible decisions and since I didn't date casually in high school, I thought every guy that I liked that also liked me was the last time that would ever happen
teresaelectro:I think she is very sex-positive, but angled caution to not use it to self destruct.
oh yeah, I basically considered any dude that paid attention
Jen K: Exactly!
I wasn't at that level, I just didn't exactly accept breakups.
teresaelectro: honestly, until I moved to Europe that I realized that I get to pick!
Jen K: Yay Europe!
teresaelectro: Like I don't have to take all these friends with benefits, ghosting drama. If you wanna get it on, do it, don't have a meltdown. LA guys are kings at running away scared even if you think you like them.
There are still fuck bois everywhere, they are just more honest about it I found. HAHAHA
I always end my review with a recommendation on why you should read. Like if you like True Blood, you'll love the Kim Harrison series. What would you compare this to?
Jen K: I'm just so done with Tinder. It doesn't work with what I want and how I get to know people, and how long it takes me to open up. I don't know what method will but being alone beats awkward boring dates.
Teresaelectro: Oh yeah, I'm never going back to Tinder. I dabble in Hinge or OKC once a year
Jen K: I feel like parts of her story reminded me of Tina Fey, but that was more the awkward high schooler who got hot part of it
teresaelectro: I can see that. I own the Fey book but haven't read it all the way. I feel like fans of Samantha Bee would LOVE THIS.
Jen K: Yes!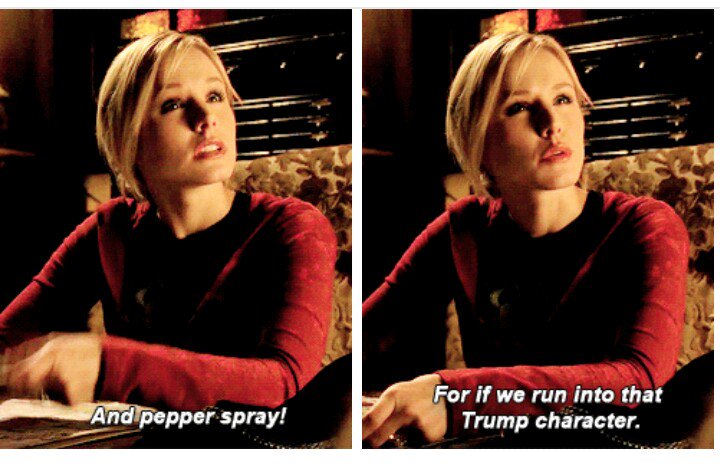 teresaelectro: And anyone into feminist history but doesn't want to be depressed for the entire book.
I would say skip if you're a fan of Pence, Davos, or Trump lol. they probably won't be looking at CBR tho lol
Jen K: And I think if you have started with some of those intros to feminism books, like from Jessica Valenti, this is a nice next step because it's more personal, and has more anger rather than just introductory stats.
Teresaelectro: oh yeahhhh. You're a quick reader, did you read it in one sitting? I listened over 10 days or so.
Jen K: I didn't but that's because I tend to have problems with collections
I can read a story straight through but essays about different topics I need to take a break in between.  Plus, I was still finishing up Ancillary Justice (Award Winner!) so it was kind of nice to switch between the two.
Also, this might sound weird but her voice kind of reminded me of Busy Philipps but without the Hollywood New Agey stuff.
Teresaelectro: Lately, I am in a big paranormal fantasy kick. I am purposefully switching genres while I add more to my queue
She has more of a twang, but they do talk tangents in a similar way
I wonder if they are friends. They might be!