Considering all the hype that Angie Thomas' debut novel has received, I honestly thought there was no way it could possibly live up to it.  I assumed it would be a good book, even a great one, but I didn't really expect it to leave such a lasting impression or to inspire this level of soul-searching.  However, given the incredible reviews this book has gotten, I just had to pick it up and see for myself. Only a couple pages in, and I was hooked.
The story starts with Starr feeling out of place at a huge neighbourhood party.  Her friend Kenya is ragging on her for preferring her rich, white prep-school friends, and most other people don't even know Starr's name – continually referring to her as "Big Mav's daughter who work at the store".  Starr bumps into her childhood friend Khalil at the party, and he ends up giving her a ride home. Khalil must be doing 55 in a 54, because they get pulled over by a gung-ho cop, and tragedy strikes. This isn't a spoiler btw – Khalil is killed in the second chapter.  Most of the book revolves around the community's varied reactions to the shooting, as well as the media responses.
At first, Starr is only trying to deal with her own feelings about the death of her friend, and trying to stay in the shadows while those around her grieve, rage, or ignore.  Though she was initially only known as "the witness", her predominantly black neighbourhood eventually figures out that Starr was the other person in the car with Khalil, and starts pressuring her to come forward against the officer's one-sided version of events.  Alternatively, her elite, mostly white private school is quick to sympathize with the traumatized policeman all over the news, and to vilify the thug who (allegedly) disrespected the poor cop.
Angie Thomas has a style that reads as incredibly natural and conversational, like a friend telling you a story.  She manages to present socio-economic and cultural differences in such a straightforward way that it actually takes a moment to realize just how fucked up things really are – she has the ability to tell you a story, through the eyes of this incredible teenage protagonist, and yet you end up with a different perspective on the world we live in. I feel like this book made me reevaluate how I react to the news, knowing how easily a narrative can be skewed.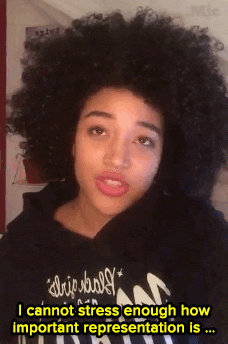 I'll be completely honest, part of my hesitation in picking up The Hate U Give was the worry that, as a white 30-something, this book was not "for" me.  I was worried that I wouldn't connect with the characters or the situations, that it might be preachy, or even that it might over-simplify some complicated issues.  I was so, SO wrong. This book opened my eyes to so many experiences that I could never possibly comprehend, and it is anything but preachy. This book is for everyone, and I immediately recommended it to my 13 year old stepdaughter and my 60-something year old mother.  This book is important, but it's also fucking GREAT.
More thoughts in my full review.