Previously on Supernatural…
Sarah's death, Abraham's death, Isaac's marriage to Rebekah: the best little camel waterer in Texas, and sibling rivalry, as per the usual. In this installment…
Patty: There was a severe famine so Isaac hightailed it to Gerar. God told him to stay put and not to go to Egypt and that if he obeyed, he would be rewarded with God's standard offer of blessings and descendants.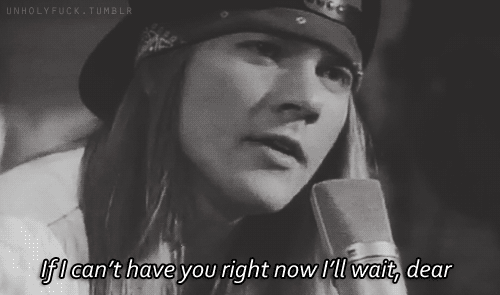 Now, stop me if you've heard this one but Isaac tells everyone in town that Rebekah is his sister (because of her great beauty, he was afraid they would kill him to get to her and yada, yada, yada, basically the same play his daddy was known for).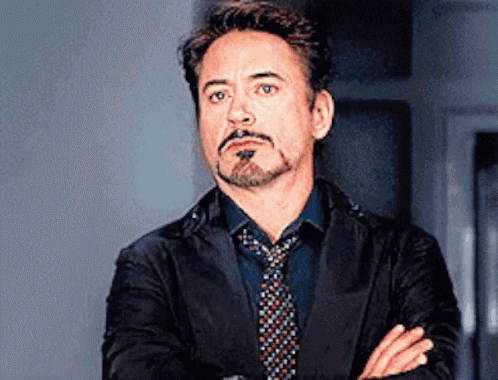 Katie: I guess the apple doesn't fall far from the tree.
Hey, Patty – you do realize that it is Lucifer that is blessing the post in the GIF up above, right? Anyway, blah blah. Famine comes again and Isaac moves around some and then finds a well because God put it there just for him. Obviously. He names the well Vow for reasons.
Patty: And there's a subplot about other wells with Conspicuous Names and I know there was a point to all of it but baby girl, it flew right past me.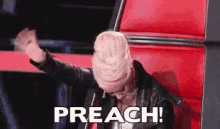 Katie: By this time, Isaac has two sons, Esau and Jacob. Esau is evidently wearing a hair shirt. I mean, that is basically the way Isaac tells them apart. By feel and by smell. Esau is furry and smells like outside. I'm serious.
There's this whole thing where we find out that Rebekah is a bitch and DEFINITELY has a favorite son whose name is not Esau. She essentially tricks Isaac into giving Jacob the blessing that gives him all of the things that are supposed to be Esau's. Mostly because she doesn't like Esau's wives. She a petty bitch.
She does this by having Jacob kill some goats and then wear their skins like he was as furry as Esau. Jacob does this and brings Isaac the special meal that Rebekah has prepared for him from the goat.
Patty: So Issac inadvertently blesses the wrong son which apparently doesn't have any takesies-backsies because Esau is all "YOU DID WHAT WITH MY BLESSING?!"
And this is how you know lawyers hadn't been invented yet.
Anyway, Isaac blesses Jacob but tells him not to marry any one of the townie girls, that he must find his uncle and marry one of his cousins instead. I'm like, WHAT. But Jacob hightails it to Paddan-aram and on his way there he camps out and has a dream about a stairway to heaven and then I had to stop reading to listen to some Zeppelin.
Katie: As is always the case, Jacob has shenanigans with finding a wife. He falls in love with Rachel, but is tricked into marrying her older sister Leah first. He has kids with Leah. After a while, he's allowed to marry Rachel, but they have trouble having kids. And this is when Genesis takes a sharp turn and goes all Handmaid's Tale. Srsly. Rachel brings her maid Billah to Jacob and tells him to get her pregnant and that will be their child. 
Leah realizes she is now having trouble having kids and does the same trick with HER maid.
Patty: And thus begins the Great Fertilization Race. The whole thing is so messed up. I get that the whole point of marriage was to procreate because DESCENDANTS, but srsly? I'm surprised the maids didn't start unionizing 'cause that is some bullshit right there.
Regardless, everyone is getting pregnant all the time and is naming their kids Names of Significant Meaning until one day Jacob decides he's over it and wants to move. He tells Laban (Leah and Rebekah's dad) that he's going to peace out with his wives and assorted goods and wares and Laban is all, "No dude! Don't leave!". This is because Laban believes that he's benefitting from God's graces by having Jacob hanging around. He asks Jacob what he wants for wages to try and get him to stay and Jacob says he wants all of Laban's black and spotted sheep (WTF?). So they strike up a deal and they divvy up the sheep and then there's whole thing about sheeps mating but it basically boils down to Jacob ending up with the awesomest sheep.
Look y'all. I don't know, OK?
Katie: There is no way that fat bastard is worth more than a person. This infuriates me. He is a variety of sheep known as the Jacob, btw. Somehow appropriate that he strongly resembles a large goat.
Conclusion
Patty: That was exhausting. No wonder it took us a year to review that part.
Katie: Well that, and the fact that they keep making the same goddamn mistakes as their forefathers. I feel the need to smash some patriarchy.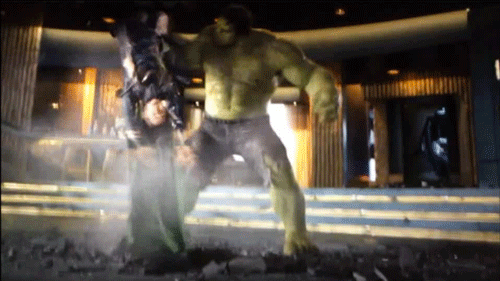 Patty: Tune in for our next installment. I don't know what it's about because I haven't read ahead but it's sure to make Katie want to break things.