I always feel weird reviewing classics. It's like, what am I going to say about Oscar Wilde that hasn't already been said? Surprise, surprise, Oscar Wilde's work is still perfect. Surprise, surprise, Oscar Wilde was super witty and reading his work is a complete joy. Surprise, surprise, Wilde's life ended in tragedy and I still wonder what other magnificent works we could have had from him if it hadn't been for the awful societal prejudice of his time.
Obviousness aside, I do really recommend the L.A. Theatre Works dramatized audio version I listened to while reading. Even with plays I'm very familiar with, I  like to hear them being performed while reading so I can get an almost full experience. James Marsters (of Buffy fame) leads this cast of wonderful performers and I can't praise it enough. They put so much life and wit into the language that I'm sure Wilde himself would have been proud.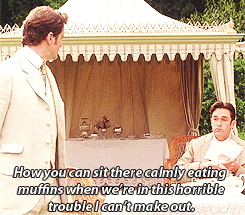 If you haven't read or watched The Importance of Being Earnest, it's an absolute must. It's not my favorite (that honor goes to An Ideal Husband), but it's a great entry point into Wilde's work. If you're not in the mood for reading or listening to a play, just watch the Colin Firth, Rupert Everett, and Reese Witherspoon film version. Wilde's plays are so effervescent that they can seem superficial at first, but as soon as you look closer, you can see they're full of scathing satire. It's like he read Jane Austen and took all the best things but pushed the humor dial up to a full ten.