I was wary of reading another YA romance-du-jour, as I find that some of them are just too cliché, though this could be a side-effect of not being in the target age demographic.  But I read so many absolutely glowing reviews for the movie adaptation of Everything, Everything that I had to check out the book first.
And dude. DUUUUUUDE. This book is incredible.
The book starts by throwing you right into the daily existence of Madeline F. Whittier, as she describes her love of reading, even if those books must always be brand new and shrink-wrapped.  Madeline tells the reader about her life on SCID row (Severe Combined Immunodeficiency), also known as "bubble baby disease", and how she has only ever seen the world from her white, sterile, air-purified room.  Thankfully, her mother is a doctor, and well able to care for Maddy's incessant medical needs.  There's also Carla, the nurse hired to take care of Maddy every day for the past 14 years.  And that's it.  With the exception of her online tutors and her tumblr followers, those two people make up the entirety of Maddy's world.
Until the sounds of a moving truck bring Maddy to her window, where she first sees Olly, the teenage boy dressed all in black who can't seem to stand still.  He's so alive, with his parkour skills and his loud, troubled family, that Maddy becomes fascinated.  She starts watching the new family next door, even as Carla and her mother worry that Maddy's interest can only lead to grief.  But then Olly makes her laugh with a Bundt cake, and there's no turning back.  They start to exchange IMs and emails, until Maddy's daily routine start to revolve around the handsome boy next door.  Carla finally relents, letting the budding lovebirds meet for short periods of time, until finally, Maddy's world is irrevocably changed with her first kiss.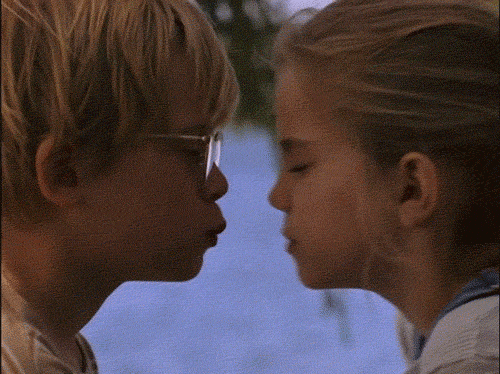 As for the writing itself, I was worried that I would be turned off by the stylistic nature of the book – the short chapters, interspersed with random drawings, one line book reviews, email/IM chats, and "project outlines".  The first few instances were a bit jarring, but Nicola Yoon does such an absolutely incredible job of making her characters relatable that soon these little touches just made me feel closer to Maddy's thoughts.  I felt like I knew this lonely girl locked away in her room, longing for the dreamy boy next door; such a universal situation that you can't help but feel a tug of nostalgia, even though Maddy's circumstances are obviously much more extreme.  Yoon's writing style is so beautiful – at once familiar and unassuming but somehow also insightful and haunting.
Another aspect of Yoon's writing that I found refreshing was the way she manages to throw in major or potentially controversial subjects and characters like they're normal occurrences (which they can be).  For example, a minor character later in the book is casually chatting about how difficult it is to come out as gay to his parents, not to mention his dreams of music superstardom.  Or the fact that Madeline is mixed race, a fact only brought up when she's explaining the origins of her middle name to Olly via email.  So you have a YA forbidden-love story, complete with interracial couple, and somehow that is never even a plot point.  It's not highlighted or glossed over, it just *is*.  Yoon also manages to start a discussion around domestic violence, and the effects it can have on the families of the abusers, again without this being the main thrust of the story.
Everything, Everything did not leave me sobbing, nor did it make me rage.  This was a quiet, haunting story that has stuck with me since I read it, and affected me in unexpected ways.  Maddy's positive outlook and sense of wonder, despite having been on house arrest for her entire life, actually made me look at the world with fresh eyes.  This book made me think about the little things that I take for granted on a daily basis, and it made me want to reach out to the people I love.  I've made it sound super schmaltzy, but it's not; it's a sweet story about young love, loneliness, hope, and how to live life to the fullest.