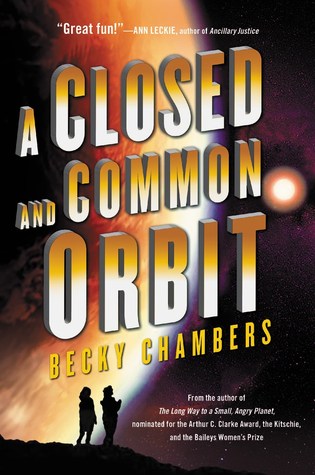 Oh my God you guys this book was so good. Like many of y'all mentioned, it's very different from the first book, which seemed like really well-written Firefly fanfiction (not a bad thing at all!). This book is much more tightly written, focusing on just a couple of characters rather than the large crew from the first book. I think someone else mentioned Margaret Atwood in their review of it and I absolutely agree. And that's a huge compliment coming from me!
At the end of the first book, the ship's artificial intelligence, Lovelace, has figured out how to implant herself in a body (a "kit"). As this book begins, she wakes up in the new body but has absolutely no memory of what came before. So half of the book is watching Lovelace, now called Sidra, navigate the world from inside of a body. The other half is the story of Pepper, formerly Jane 23, who was raised under terrible circumstances and then saved by an artificial intelligence. Pepper's story is straight up Atwood.
I love the world that Becky Chambers has created in these books. The total integration of multiple cultures and genders and languages is just incredible. It's extremely immersive experience and I simply cannot wait for the next one to come out.