The Long Way to a Small, Angry Planet is the somewhat unwieldy title to an absolutely delightful story of a tightly-knit group of space-farers tasked with tunneling through space, setting up wormholes that allow for interplanetary travel. It's set in the distant future (obviously), where humanity has made Earth uninhabitable and are scattered across the cosmos. They've joined a collective of alien races called the Galactic Commons.
That's pretty much it, in a nutshell. The broad elements here will be familiar to anyone who's been in contact with the genre before, whether that contact be through Star Trek, Firefly, or any number of other series. Despite it's familiarity, however, Becky Chambers approaches the story with a fresh, nuanced touch that always feel respectful (both to the characters and the audience) and inviting. It's gotten rave reviews around these parts, and I agree with all of them. I highly recommend this book.
…
I've been a reader of genre fiction for most of my literate life, and perhaps the biggest criticism of fantasy and science fiction is the depiction of women and people of color. Rather, to be more accurate, their absence is an issue, and when writers do make some effort to include them in their narratives, their depictions are often found wanting.
In that regard, this book is a tonic for the aggrieved.
[I wrote a whole thing about how my opinions on diversity casting in movies and TV are probably somewhat controversial around here, but this review quickly devolved into a long series of defenses that really did nothing but divert attention from my post. What it boils down to is that I believe diversity for diversity's sake is counter productive, but that I, a straight white male, really am not the person to be having an argument about how best to achieve equal representation. So, as you may be able to imagine, this now deleted section amounted to, "there has to be a better way, but I'm aware enough of my privilege to not give my opinions too much weight."]
It's really impossible to talk about what this book does without talking about Star Trek, which, for a long time, has been the gold standard for progressivism in Science Fiction. Even though it really shouldn't be.
Yes, it was great for its time, but after that initial run, the franchise became about as progressive as a stock photo, where ethnic and gender diversity becomes a checklist to be marked off rather than a truly forward thinking depiction of humanity.
Black person? Check. Woman? Check. Vaguely ethnic person? Check. Then fill out the rest of the show/book/movie/whatever with white men acting out stories written by white men in episodes directed by white men aired on a network owned by white men.
That's not diversity, and it makes addressing the lack of diversity more difficult, because the privileged majority sees this forced inclusion of token minorities as an endpoint rather than a first step towards inclusivity. Diversity is the natural state of life – not something halfheartedly depicted to appease the bleeding hearts. Tokenism isn't going to change the world.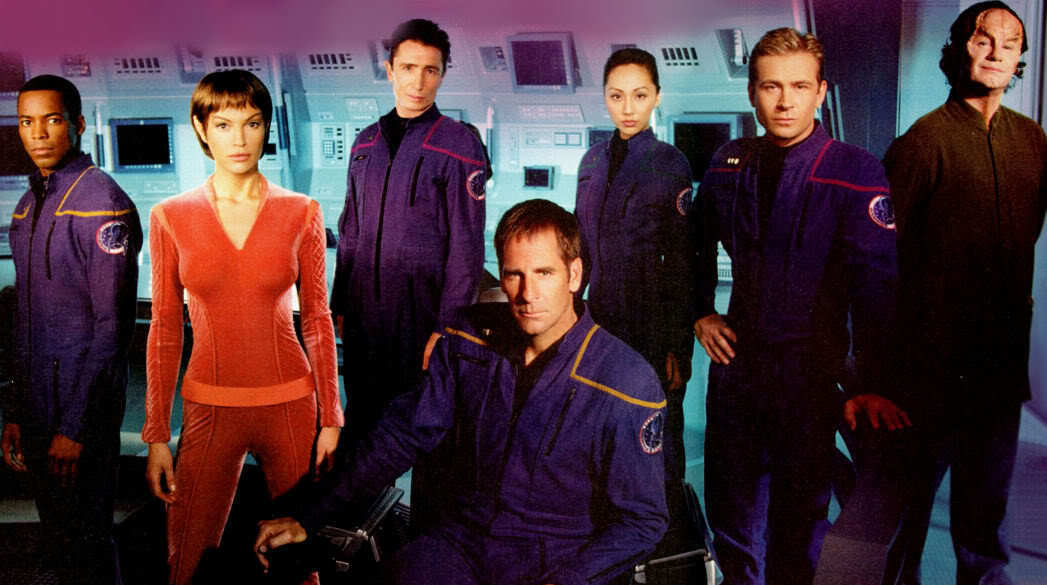 Maybe this is blasphemy, but I don't see these casts as particularly diverse. For starters, we're talking about Star Fleet. Why is almost everyone even human? Secondly, are we really supposed to believe that 400 years in the future, white Americans are really going to be the most represented group of humans in the universe? Really?
Which isn't to say that the inclusion of women and people of color is something worthy of derision – it's clearly not. But when their inclusion is ancillary to story development, or only done for the sake of being "diverse" (as opposed to all-inclusive or, you know, being realistic), or mostly done for much desired T&A (see: Enterprise), "diversity" becomes self-defeating.
Am I making sense? I don't even know.
Anyway. I'm getting side-tracked. The Long Way to a Small, Angry Planet brings diversity to the forefront by…..not really making an issue of it. The cast of characters is simply diverse. I can't tell you what the human characters ethnic backgrounds are. Not really. But Chambers makes it absolutely clear that we're dealing with people from all walks of life. And the aliens aren't scenery, they're vital members of the crew who aren't just there to figure out what it's like to be human. They have their own backgrounds and cultures, and love themselves for who they are. They aren't necessarily hetero- or gender-normative, either. And this isn't something the crew has to come to terms with, or try to understand in a moral sense. People are different. That's just reality. And that's okay.
Diversity doesn't exist here so that everyone can have a voice; diversity exists because it, in and of itself, is valuable. The crew here is a family, and it is their differences that make them stronger and better able to deal with the complexities of existence in space occupied by other forms of life. I enjoyed this book not just because it was well-written and engaging, but because the story envelops complexity and difference into itself, acknowledging that same-ness is a weakness without resorting to very special episode -type vapidity.
Check it out, if you haven't already. I'm going to go find the second book.
---
Reviewed four times for CBR, with an average rating of 4.50.