I loved Star Wars as a kid, but never got into the extended universe. I'm sure there was a reason, but I don't know what it was. With the resurgence of Star Wars, I am now giving myself permission to enjoy non movie Star Wars stories. I wasn't sure how interested I would be in Darth Vader on his own, but I was pleasantly surprised. Is he not fabulous? He is working that cape.

At the end of Star Wars, all Darth Vader knew was that the Death Star had been destroyed by a Rebel pilot.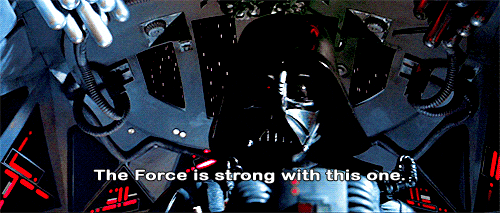 In The Empire Strikes Back, Darth Vader knows who to torture to get Luke's attention and that Luke is his son.
When the movies came out I just assumed that Darth Vader figured it out because of the Force.
I guess, if I think about it, he probably did some research. Kieron Gillen's Darth Vader run of the Star Wars Marvel comics fills in what Darth Vader was up to during that time between the movies. So far I've read the first two volumes and they are wonderful. Vader is out of favor with the Emperor and fighting to keep his place. The Emperor also wants to know who the pilot was, but has tasked someone else to find out. Vader has to go out on his own and slip the tight leash the Emperor wants to put on him in order to keep his place and get the information he wants.
Along the way, he meets Doctor Aphra and her murder droids. Doctor Aphra is an interesting addition to the universe and to Darth Vader's story. I can't wait to read the next three volumes of Darth Vader's story, and Doctor Aphra's story.
In the past year I've been exploring the Star Wars expanded universe through comics and animated series Star Wars The Clone Wars and Star Wars Rebels. To a certain extent, they wash away the bad taste the prequels left. But, never entirely.