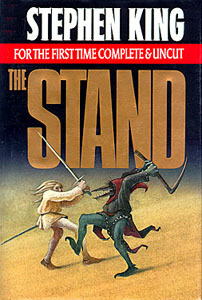 So. The Stand. I have been listening to The Stand on audiobook since before Thanksgiving. It's 48 hours long. I'm so glad that I was able to to hit my 5th Cannonball of the year on this particular book because I love it dearly, but have never had a chance to review it for Cannonball. So here we go!
"Show me a man or a woman alone and I'll show you a saint. Give me two and they'll fall in love. Give me three and they'll invent the charming thing we call 'society'. Give me four and they'll build a pyramid. Give me five and they'll make one an outcast. Give me six and they'll reinvent prejudice. Give me seven and in seven years they'll reinvent warfare. Man may have been made in the image of God, but human society was made in the image of His opposite number, and is always trying to get back home."
In case you're not familiar, The Stand is a very, very long book set in 1990 — after a super flu (Captain Tripps) has wiped out 99% of the country. We have a small band of survivors who find each other over time as they all try to reach Nebraska, and then Boulder. Each has been dreaming of the same elderly black woman every single night, and feel drawn to her (and each other) as a result. There's also a small band of people who've been drawn to the dark man (Randall Flagg, who has appeared in other King novels in some form or another). This group of people, mostly made up of psychopaths, are trying to make their way to Las Vegas.
King lets us get to know each of the characters slowly over time, and get inside their minds. This is my favorite part of any one of his novels. Same reason I love It so much. He does a fantastic job with character-building and back story. There are definitely some problems with the novel. Even though it was written in the eighties, a lot of the racist and sexist undertones cannot be excused. We don't have a lot of women in the novel, but of the main ones, we have a pregnant lady (who I love dearly) who spends a lot of time weeping and wailing. Another one who crosses over to the dark side basically acts as a sexual fantasy for 99% of the vook. And there's our Magical Negro, Mother Abigail. As for racism…there's this really awful scene towards the beginning, when everything is going bad because of the flu, in which a black man dressed in a loincloth begins executing white soldiers on TV. I listened to that scene driving in my car thinking, "Good Lord King, what on Earth did you think you were doing here??"
But if you can forgive some mis-steps, overall it's a fantastic story. The Good vs Evil is done in classic King style. It's hard not to read this book and not continually think of the Dark Tower. There are some truly horrifying moments, not only as people are dying of the flu (which does take up a good portion of the novel) but also as we see how people react in a post-apocalyptic scenario (spoiler: people suck, even when there; 99% less of them). And then there's the scenes of goodness — people working together to recreate law and order, and to (literally) get the lights back on.
But like I said, the story really takes a back seat to the characters. Stu Redman (a.k.a East Texas). Deaf-mute Nick Andros (love you, Nick!). Glen Bateman (probably my favorite, tbh, even though he ditches Kojak). Larry Underwood (who I think plays a stand-in for King, and I love that we watch him grow over time). Frannie Goldsmith (who gets the giggles). And dear Tom Cullen (M-O-O-N!). Glen Bateman is the only one of them that we don't get an interior view of, but he talks so much during the course of the novel that I don't think we really need it. And then on the bad guy's side we have the Trashcan Man (lunatic arsonist) and Lloyd Henreid (psycho murder) whose collective flashbacks give me nightmares still. And heading the two groups, we had Mother Abigail and the Dark Man.
t's a fantastic story and clocking in at 1100 pages (or 48 hours) it deserves every minute. I know the book was originally released in a shorter format, and King rereleased it with all of the extras year later, at the demand of his fans. While I have never read the shorter version, I can't imagine cutting any of it. It's supposed to be a sprawling epic and it works.