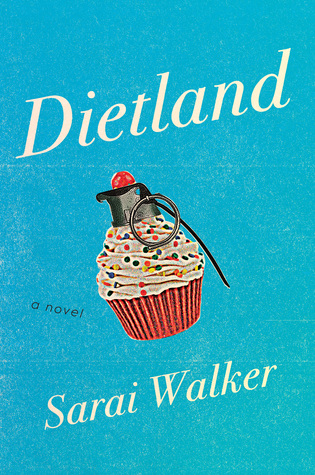 Thank you, yesknopemaybe, for your review on this one. I certainly wouldn't have read it without your recommendation. The description "Fight Club meets Margaret Atwood" could not be more accurate.
"We can't hide it or fake it. We'll never fit society's idea for how women should look and behave, but why is that a tragedy? We're free to live how we want. It's liberating, if you choose to see it that way."
Dietland stars Plum Kettle, a woman who has struggled with her weight her whole life, and has finally decided to get weight loss surgery after years of failed diets. Having made the decision, she awaits her surgery date while working as an online advice columnist, and basically avoiding the rest of humanity. Then she notices a girl following her, a girl who gives her an anti-diet book called Dietland, written by the daughter of a fanatic dieting queen. And meanwhile, strange things are happening to men around the world…
This book is bizarre. I don't necessarily agree with its message 100%, but it makes some good points and it's certainly an interesting read (I read the whole thing last night, just unable to put it down). Like yesknopemaybe said, don't be put off by the cover — this one has some teeth.