Th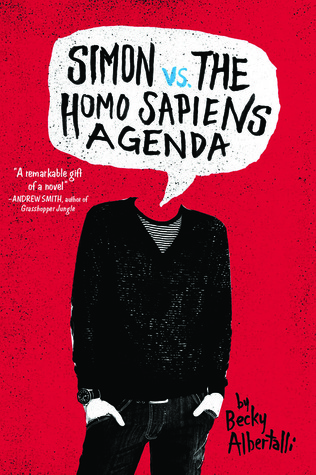 ank you, yesknopemaybe, for recommending this. You said in your review, "if you like Rainbow Rowell's books, you'll probably like Simon vs. the Homo Sapiens Agenda". In my case, at least, you were 100% correct. I found this book to be cute and fluffy, while still hitting some really deep points about growing up.
"Why is straight the default? Everyone should have to declare one way or another, and it shouldn't be this big awkward thing whether you're straight, gay, bi, or whatever. I'm just saying."
Simon Spier knows he's gay, but as a sixteen year old in a less-than-progressive town, he prefers to keep that to himself. He has a good group of friends, although the dynamic has changed a lot lately as two of those friends seem to be entering some other kind of relationship. He also has an email pen pal that he has a very flirty relationship with — a guy who attends his school, but uses a false name with Simon because he's not out either. Simon's pretty happy with all this, until one of his classmates finds out about his pen pal — and uses this information as blackmail to get Simon to hook him up with one of Simon's friends.
This book is CUTE. Becky Albertalli works with "gender nonconforming kids" in real life (this, according to her website — http://www.beckyalbertalli.com/about/ — which you should totally read because she seems awesome) and her comfort with teens comes out in her writing. She nails those group dynamics, the troubles in school, etc. There are some good lessons sprinkled among the funny writing and teenage angst. I highly recommend it to all you YA-lovers out there.