I don't read a lot of Fantasy novels. It's not because I don't like them. Fantasy is one of those genres that I enjoy when I accidentally start reading it but, when I go looking for it, I have a hard time deciding what to read. The genre is just so HUGE, and there are so many different series, and I don't want to waste my time on ones I might not enjoy, but how do I know which I WILL enjoy without actually reading them? Sense my conundrum? My life, it is so difficult.
I saw A Court of Thorns and Roses on a Best Fantasy Novels of 2015 list. I'm always happy to find a Best Of list to use as a guide into new territory. I'm so thankful to the people who like things enough to make lists about them for me. Just for me. No one else.
This Best Fantasy list was unsurprisingly chock full of white dudes, but I started by picking all of the books by women and requesting the interesting sounding ones (of which there were many) from the library. I chose to read A Court of Thorns and Roses first only because it was the first one to become available but I think it was a good start.
Anyway! What is this book about, you might be wondering? Here I will tell you!
Feyre lives with her father and two sisters in their dilapidated home, having fallen from riches years before. Feyre's mother died when she was very young, and Feyre made a promise to take care of her family. Mostly by hunting. It's all very Katniss of her.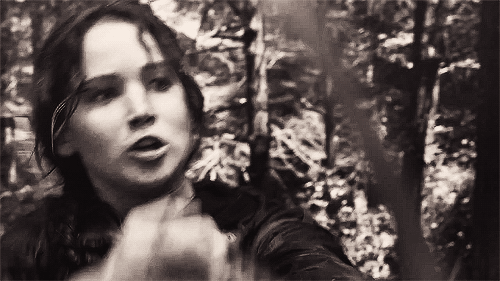 Feyre's father and sisters aren't much help when it comes to actual survival, so it falls to Feyre to find food and money so they don't die a horrible slow death full of hypothermia and starvation. She does this by hunting in the forest that lies along the perimeter of the wall between the mortal world and that of the Fae, immortal beings with whom humanity fought a long and horrible war many years prior. She hates faeries because of what they've done to her world and also probably jealousy, right? Because they're beautiful and live forever? I'd be jealous.
One day, while hunting, she kills a huge wolf. SPOILER ALERT, that wolf was actually one of the Fae. His friend, a High Fae named Tamlin who can McGonagall himself into a scary beast-like creature, soon comes to collect his revenge. He gives Feyre a choice: he'll either kill her horribly, or she can come live at his house and never, ever return to the mortal world. (This seems like a very "cake or death" type choice, yeah?)
I won't spoil anything else, but suffice it to say, there's more to the story going on. I mean. Duh. There has to be more or it wouldn't have been a very long book. Feyre and Tamlin get into all sorts of shenanigans, mainly because Feyre doesn't really know what's going on but also because she refuses to listen to those around her. This is, at times, frustrating but I appreciated that she was a heroine who didn't always think things through and, more importantly, never accepted the seemingly unchangeable fate she'd been given.
It took me a bit to really get into this one but (if this tells you anything), once I'd finished it, I was very disappointed to learn that the next installment doesn't come out until May. MAY. That's forever in book years. I always forget to check to see if a series is finished before starting it (see also: The Raven Boys) but that's my own fault.
Luckily, the author has another series, Throne of Glass, that isn't finished either, but is more novels deep than this series, so I'm working through that one now. And if anyone has any Fantasy suggestions in the meantime, I've got some time to kill until May.
*I might title all my posts with Hamilton lyrics because WHY NOT (also because it's all I ever have running through my head anymore)